Day-to-day work of the Anglican Communion
Alongside his formal roles within the Instruments of Communion, the Archbishop of Canterbury is presented with countless opportunities for strengthening the life of the Communion. These include the encouragement of timely initiatives, such the Primates theological education working group, TEAC (Theological Education in the Anglican Communion). They also involve harnessing support for Provinces in particular need, such as through his Anglican Communion Fund and his international development initiative (more on Anglicans in Development). This dimension of the Archbishop's role also lies behind the emphasis on equipping bishops for leadership in mission at the Lambeth Conference.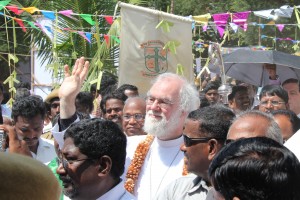 Visits of the Archbishop of Canterbury within the Communion symbolise its interdependent life. Since 2003, visits to churches in the Anglican Communion and meetings with their leaders have taken place in locations including West Africa, Melanesia, Burundi, Pakistan, Brazil, Sudan, Canada, Sri Lanka, Ireland, Wales, Scotland, Angola, Egypt, the USA, Malaysia, Jamaica, Japan, Israel/Palestine, Jordan, Uganda and India. In his ministry across the Anglican Communion the Archbishop is supported by a dedicated staff at Lambeth Palace alongside the Secretary General of the Anglican Communion and his staff at the Anglican Communion Office in London.
Recent items relating to Mission, Theological Education, Unity, Faith & Order, Anglican Observer at the UN, local Provincial concerns and the Archbishop's Overseas Provincial Visits are shown below:
October 2012

Launch of 'Life-Widening Mission: Global Anglican Perspectives'
28 October 2012
The Archbishop of Canterbury launched the book "Life-Widening Mission: Global Anglican Perspectives"…
July 2012

Archbishop of Canterbury at General Synod in York
7 July 2012
The Archbishop of Canterbury, Dr Rowan Williams, contributed to several debates in the July Group of…
May 2012

Archbishop awards the first 'Examination in Theology' PhDs at Lambeth Palace
9 May 2012
The Archbishop of Canterbury, Dr Rowan Williams, has today awarded Lambeth PhDs to the Revd Canon Les…
October 2011

Archbishop's interview with Vatican Radio: 'from Assisi to Zimbabwe'
28 October 2011
Archbishop Rowan Williams spoke to Vatican Radio during his visit to Italy for the day of reflection,…

Archbishop meets President Michael Sata of Zambia
11 October 2011
During a call on the President, the Archbishop congratulated HE Michael Sata on his recent election victory…

Archbishop of Canterbury arrives in Zambia
11 October 2011
Archbishop Rowan Williams arrived on Tuesday morning in Lusaka, Zambia, for the final stage of his visit…

Archbishops meet with Zimbabwean Prime Minister
10 October 2011
Having met with the Zimbabwean President earlier in the day, the Archbishop of Canterbury Dr Rowan Williams…

Archbishops meet with Zimbabwean President
10 October 2011
The Archbishops of Canterbury, Central Africa, Southern Africa and Tanzania issued the following statement…

Visit to St Augustine's Mission in Manicaland, Zimbabwe
10 October 2011
During their trip to Manicaland, Zimbabwe, the Archbishop of Canterbury and his fellow bishops paid a…

Archbishop travels to Manicaland, Zimbabwe
10 October 2011
During his time in Zimbabwe, Archbishop Rowan Williams visited the Diocese of Manicaland. Manicaland…