International Development
The Archbishop of Canterbury's role as a figure of unity of the worldwide Anglican Communion, which is represented in over 130 countries, means that he is in a unique position to bring the needs and voices of those facing poverty, disease and the effects of conflict, to the attention of national and international policy makers and donor agencies. The Archbishop monitors the situation in countries across the Anglican Communion and often speaks out on issues of peace, poverty and justice.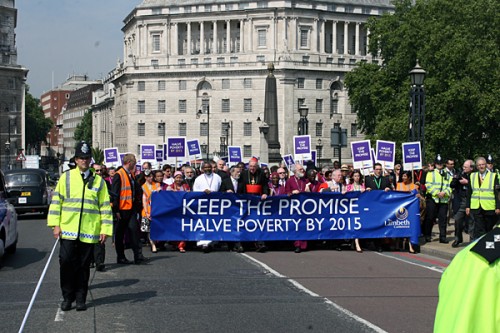 The Archbishop of Canterbury's International Development Secretariat (IDS) has been operational since 2005, and works on his behalf to build relationships between Anglican partners, and Christian and secular organisations in the development world, to facilitate community-based development and peace building. It seeks to help governments, UN agencies and international NGOs understand how they can work more effectively with Anglican partners and other faith-based organisations on development issues.
The department places a priority on collaborating with other Christian organisations in the field to do joint visits, training and programme development.
IDS is involved a number of community development programmes in sub-Saharan Africa, with a particular focus on education, but also peace building, micro-finance and HIV programmes. It also works to support Communion-wide advocacy on the Millennium Development Goals and other issues through the work of the Anglican Observer to the United Nations and the newly formed Anglican Alliance.
Global Advocacy for poverty and justice issues
As head of the Church of England and a focus for unity in the Anglican Communion, the Archbishop of Canterbury has many opportunities to speak out on poverty and justice issues and to convene Anglican leaders and leaders of other faiths on this issue in the UK and internationally.
The International Development Secretariat (IDS) works to strengthen the existing advocacy work carried out by mission and development agencies and by church leaders themselves.
"The challenge for the church is for us to let the voices be heard in high places."
- Edward Malecdan, Bishop of Northern Philippines
"When you talk about peace that's a political statement. When you talk about justice that's a political statement. Politics and religion are interwoven, the sacred and the human are seen as one stream which flows from one another."
- The Most Reverend Thabo Makgoba, the Anglican Archbishop of Cape Town
Recent items relating to International Development are shown below:
December 2012

Archbishop welcomes return of Anglicans to their Cathedral in Harare
17 December 2012
Thousands of Zimbabwean Anglicans gathered yesterday in the centre of the capital city to celebrate and…

Dr Rowan Williams to become chair of Christian Aid board
11 December 2012
Dr Rowan Williams, the Archbishop of Canterbury, is to become chairman of the board of trustees of Christian…

Archbishop's video message for World AIDS Day 2012
1 December 2012
The Archbishop of Canterbury has recorded a video message for World AIDS Day in which he highlights that…
November 2012

Travels with my Archbishop
8 November 2012
The Bishop of Lynn Jonathan Meyrick reflects on his recent visit to Papua New Guinea with the Archbishop…
October 2012

Archbishop urges help for Sudanese caught up in conflict
9 October 2012
The Archbishop of Canterbury has expressed his fear for the situation of more than 850,000 people displaced…
September 2012

Archbishop welcomes UN Secretary General's Education First initiative
27 September 2012
The Archbishop of Canterbury, Dr Rowan Williams, welcomes the launch of the Education First initiative…

Archbishop - "We must locate education at the very heart of the humanitarian agenda"
3 September 2012
The Archbishop of Canterbury hosted a conference on Monday 3rd September on Education for Children Affected…
July 2012

Young Peacebuilders meet with Archbishop Rowan
2 July 2012
The Archbishop of Canterbury met with a group of young people from around the world, gathered for The…
June 2012

'Faith, Poverty and Justice' - Lambeth Palace Inter-Faith Event with DFID
26 June 2012
Lambeth Palace hosted a launch of the Department for International Development's 'Faith Partnership…

Archbishop Rowan Williams challenges myths over aid
13 June 2012
The Archbishop of Canterbury has challenged the 'myths' around international development and praised…