Archbishop welcomes return of Anglicans to their Cathedral in Harare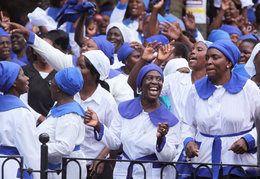 Monday 17th December 2012
Thousands of Zimbabwean Anglicans gathered yesterday in the centre of the capital city to celebrate and give thanks for their return from exile.
For the last five years Anglicans have been prevented from using their churches, schools, orphanages and health facilities, but following a judgement from the Supreme Court on 19th November they have been returning to their properties to begin the huge task of cleaning and refurbishment.
The Archbishop of Canterbury sent a message of congratulation which was read to the heaving crowds that filled the public park opposite the Cathedral.
''You have faced threats of violence and arrest and yet your faith has not weakened, rather it has grown stronger. Through all this your faith has been a beacon of light to the rest of the Anglican Communion. Your numbers have grown along with your resilience to live in the light of Christ, no matter the consequences.
Today you have been rewarded for your struggle. Today we thank God for his unending mercy and justice. Today I join you in joyously praising God as you finally return to your churches.''
Bishop Chad Gandiya, who has led the Diocese amidst intimidation and exclusion form their church buildings since 2009, emphasised the importance of forgiveness in order to push forward with the goal of ministering to the physical, psychological and spiritual needs of their communities. After the service of jubilant thanksgiving Bishop Chad moved across the street to begin the rededication of the Cathedral. He was accompanied by the Archbishop of the Province of Central Africa, Albert Chama, several other bishops of the Province and the Bishop of Tonbridge, Brian Castle.
For more information on the celebrations see the Diocese of Harare Facebook page http://www.facebook.com/AnglicanHarareCpca