Travels with my Archbishop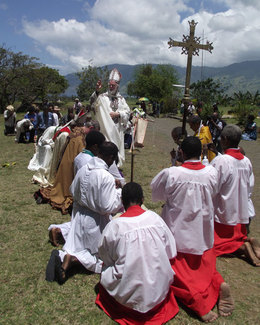 Thursday 8th November 2012
The Bishop of Lynn Jonathan Meyrick reflects on his recent visit to Papua New Guinea with the Archbishop of Canterbury, Dr Rowan Williams. Despite PNG's many challenges, Bishop Meyrick found an Anglican province where church and state are committed to working together, and where ecumenism is thriving.
Everywhere I went with the Archbishop Rowan Williams in Papua New Guinea, we travelled in a convoy of at least three vehicles. We were escorted by police cars and motorbikes, whose lights flashed and sirens wailed at the first hint of any hold up. When one of our proposed visits seemed a logistical impossibility, they provided a helicopter.
Because Norwich – the diocese where I serve as a suffragan – has a long-standing link with the Anglican province of Papua New Guinea, Archbishop Rowan asked me to join his party on his official visit there last month. The Archbishop, his wife Jane, and two chaplains were then due to travel on to New Zealand for the ACC conference; I was going to stay on to consolidate my knowledge of the church in Papua New Guinea.
I have been involved in visits to Companion Link dioceses before, but travelling with the Archbishop of Canterbury was a quite different experience – not least in how we were treated by the country and the government there. We had a personal security guard who was with the Archbishop throughout. We met the governor general and the deputy prime minister. We were hosted at a state dinner attended by the prime minister. At services or visits, local government representatives were usually there.
For a relatively new, rural, suffragan bishop, this was heady stuff. However, it was quickly apparent that the real value was not so much in the comfortable trappings of this extremely generous and high-level welcome – but in what it exemplified.
In Papua New Guinea, there is a clear commitment to partnership working from both church and government – of which we were to see plenty of evidence in the days to come.
Ecumenism is thriving too. In 2003, Anglican and Catholic bishops signed a covenant of mutual friendship. They committed "to do together whatever does not have to be done separately". I suspect this kind of atmosphere makes it easier for the government to enter into partnership with the churches – and it has certainly expressed remarkable enthusiasm for it.
The Church of England was born in this kind of expectation, with Queen Elizabeth I being absolutely clear that, for her, the Church was instrumental in developing national unity. Anglicanism therefore has at its heart an understanding of the Church's role in developing the life of the whole surrounding community. Both Archbishop Rowan and I found it immensely encouraging to see such a clear understanding of that from both church and state. The strong ecumenical dimension to this understanding was also hugely cheering.
Valuing the Communion
On our first morning in the capital, we were greeted by ranks of state dignitaries, along with the local Archbishop and diocesan, who were accompanied by traditionally-dressed, spear-carrying, mock-threatening dancers. In the afternoon, the Archbishop met with the Governor General and the Deputy Prime Minister, followed by an evening reception at the Diocesan Bishop'scompound.
The next day we flew north to the rural town of Popondetta, historically home to PNG's highest concentration of Anglicans. Driving the last few miles to the cathedral, the road was lined with people cheering, waving and throwing frangipani and tree flowers into our path. When we arrived, the provincial bishops were gathered along with around 4,000 people – all of them thrilled to have the leader of the Anglican Communion with them. There is a tremendous sense of the value of the Communion in many of these smaller provinces, and great bewilderment about its divisions. Rowan's presence was clearly a great boost, and they revelled in it.
I joined the House of Bishops as we followed the procession of dancers, men and women of all ages, many with huge feathered headdresses –ahead of Rowan, who was wearing magnificent vestments made for him by local clergy wives.
Sermon
Delivering his sermon, Rowan's style of presidency seemed to fit naturally. He wound together threads of the congregation's history and present, and spoke simply of our joint hope in Christ. The service blended traditional liturgy with traditional Papua New Guinean culture, dancing and music. It was impressive, natural and moving. Administering with Rowan to these numbers and in this setting was a powerful experience.
That evening, back at the cathedral, the Archbishop closed a week-long youth rally. In the front rows, young men leaned forward, listening intensely, as he spoke of the nature of the gospel and its implications for our lives.
On our third day we travelled to a parish called Erero, which no national or even regional body had visited since it was totally devastated by Cyclone Guba in 2007. The Archbishop's message of affirmation and support from the global Anglican Communion was clearly heart-warming for them. As elsewhere, the warmth of the Papua New Guinean welcome was indescribable.
This was also the day when the major theme of the visit emerged: the partnership and shared community development between people, church and government in areas like health and education. This was particularly clear when Rowan opened and blessed a refurbished Anglican hospital. And again when he 'broke the ground' of a new Anglican teachers' training college, which may become the seed of an Anglican university. There were many other such examples.
On day four we flew to Dogura, the site of the first Anglican missionary chapel in 1891. Looking down over jagged green hills and lush forest, we could see the move to palm oil – which generates income but is damaging the soil.
We gave the Eucharist at the breathtaking Dogura Cathedral. With his typical generosity, the Archbishop passed the baton to me to bring messages of support and greeting from Norwich and my diocesan bishop.
Tackling HIV/AIDS
Back in the capital on our final day, we visited the Anglicare centre in the diocesan bishop's compound. They are doing a terrific job here providing a clinic, testing and counselling those affected by HIV/AIDS. They average 10 new cases a day.
Also on site was a group of about a dozen women who have been doing an adult literacy course here – something women need to help raise their standing, and therefore their protection. The culture here has been deeply male-dominated, but that is starting to change. The church has a strong gender empowerment programme. But there is still a long way to go, as Archbishop Rowan and Jane discovered in private conversations with a number of female victims of gender-related violence.
The afternoon provided a meaningful background to the recording of the Archbishop's World AIDS Day message for this year, and sharpened for all of us the dimension of sex-related disease and gender violence in healthcare issues in this country – and so many other places.
A loving challenge
Several things stand out from the visit. Not least is the exuberant faith and life which surrounded us – and the local church's deep commitment to its people and wider communities. There was huge affection for the Archbishop himself, and for the wider Anglican Communion he represents. This showed itself an outpouring of hospitality and welcome.
The partnership between church and government in delivering both healthcare and education was also striking – though it needs delivering more widely across the country.
The challenges here are immense, not least in terms of transport links, but there are great resources in this land both in and under the land, and in its people. Nonetheless the goal should be achievable: more than 800 languages, cultures and tribes are gradually learning to work together, and it was evident that there was a real commitment from the government to work collaboratively with the main churches in delivering these goals. The Papua New Guinean Anglican Church's commitment to work in these areas is also very clear. If this mutual commitment is delivered in practice, the future looks very hopeful. At the state dinner which concluded his visit, the Archbishop also underlined the need for an understanding of leadership as service and the exercise of even-handed justice and compassion.
Finally, the Archbishop's ability to gauge the nature of the occasion and speak to it with loving affirmation – and, at times, with clear and direct challenge – was evident throughout the visit. As always, he produced some of his distinctive summaries of faith – for instance, "Theology is just an attempt to put into words the reality of our relationship with Jesus, and that's the important thing."
It was a treat to travel with Archbishop Rowan and his gentle, gracious, Jane. It was wonderful to be included in the warmth of the great welcome offered to them there in Papua New Guinea. Anyone who has been once, they say, always wants to go back. That's certainly true of me – and of the Archbishop too.