Society & Community
How can the Church help to give a voice to people who are easily ignored by the powerful? How can Christians and others make a difference in their local communities and to the society we live in as a nation? What's most important in life and what does the Christianity have to say about the big questions we all face?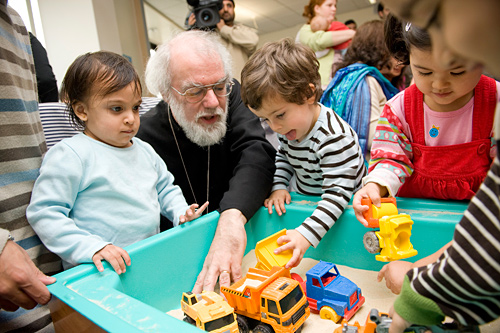 The Archbishop of Canterbury's ministry in the church, his role in parliament as one of the Lords Spiritual, and his place in public life, give him opportunities to see what others are doing in answer to these questions and to take part in public denate about the issues behind them. That might be through visiting schools and talking to the pupils and staff, through speaking in the House of Lords or writing for the press, or by spending time with clients, volunteers and staff at projects working to make a difference to the lives of those in need around the country.

In this section, you can find out what Archbishop Rowan has said and written about all sorts of issues - from asylum and immigration to climate change, and from childhood to economics. You can also find out more about some of the people and projects he's visited and the work that they're doing.
Recent items relating to Society & Community, including Arts & Culture, Economy, Education, Environment, Family Life, Government & Parliament, Health and Human Rights are shown below:
January 2013

Archbishop's New Year Message: appreciate the 'silent conspiracy of generous dedication'
1 January 2013
Dr Rowan Williams, in his final New Year Message as Archbishop of Canterbury, pays tribute to people…
December 2012

Peerage for the Lord Archbishop of Canterbury
26 December 2012
The Queen has been pleased to confer a Peerage of the United Kingdom for Life on the Most Reverend and…

Archbishop's Christmas Sermon – 'join the human race this Christmas'
25 December 2012
The Archbishop of Canterbury, Dr Rowan Williams, is urging people to go and 'join the human race'…

Archbishop's Thought for the Day: 'if all you have is a gun, everything is a target'
22 December 2012
In his final Thought for the Day on BBC Radio 4, the Archbishop of Canterbury talks about the recent…

Archbishop announces 2013 Michael Ramsey Prize shortlist
17 December 2012
The Archbishop of Canterbury has announced the shortlist for the 2013 Michael Ramsey Prize (MRP). The…

Archbishop's sermon at a Service of Thanksgiving to celebrate 80 Years of the BBC World Service
12 December 2012
The Archbishop of Canterbury, Dr Rowan Williams, today spoke about the importance of free speech at a…

Archbishop's interview with Canterbury's 'Outlook' magazine
10 December 2012
In an exclusive interview for Outlook magazine, Amber Stark, Lianne Carpenter, Jack Cheeseman and Chloë…
November 2012

Archbishop celebrates Christchurch's "flash mob of grace"
5 November 2012
The Archbishop this weekend praised young people in Christchurch who volunteered after the devastating…
Archbishop's sermon to Marae leaders in Christchurch, New Zealand
3 November 2012
During a visit to Christchurch nearly two years after its devastating earthquake, Archbishop Williams…
October 2012

Archbishop joins faith leaders to tackle mental health stigma and discrimination
17 October 2012
The Archbishop of Canterbury, in partnership with the Time To Change campaign to end mental health discrimination,…