Archbishops meet with Zimbabwean Prime Minister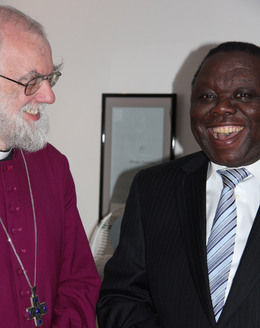 The Archbishop of Canterbury with Prime Minister of Zimbabwe Morgan Tsvangirai
Monday 10th October 2011
Having met with the Zimbabwean President earlier in the day, the Archbishop of Canterbury Dr Rowan Williams and the Primate of the Church of the Province of Central Africa Archbishop Albert Chama called on the Prime Minister of Zimbabwe Morgan Tsvangirai in the evening.
In a very constructive meeting, the Archbishops were able to share their concerns with the Prime Minister about the damage being done to schools, clinics, orphanages and other critical social institutions in Zimbabwe, as a result of the seizing of property, dismissal of staff and sale of church properties and assets.

The Prime Minister pledged to do all that he could to ensure that the rule of law was enforced, that shrines and churches remained open for all who wished to worship and pray in them, and that the police fulfil their responsibilities to protect Zimbabwean citizens with due impartiality.

The Archbishop of Canterbury thanked the Prime Minister for the warmth of his welcome in Zimbabwe, and expressed his very deep hope that Zimbabwe would continue to fulfil its enormous potential through peaceful democratic processes and the rule of law.

Both Archbishops continue their pastoral visit with a visit to Zambia, which will begin with a call on the newly elected President Michael Sata.