General Synod
What is the General Synod?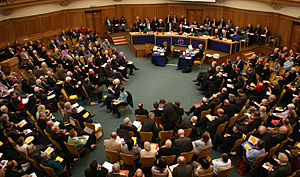 The General Synod is the national assembly of the Church of England. It came into being in 1970 under the Synodical Government Measure 1969, replacing an earlier body known as the Church Assembly. It continues a tradition of synodical government which, in England, has its origins in
the medieval period. It has powers in the following areas:
Legislation by Measure
To pass Measures which, if approved by resolution of each House of Parliament, receive Royal Assent and thereby become part of the law of England
Legislation by Canon
To legislate by Canon, subject to Royal Licence and Assent
Relations with other Churches
To regulate the Church of England's relations with other churches and to make provisions for matters relating to worship and doctrine. It can make provision by Act of Synod, regulation or other instrument in cases where legislation by or under a Measure or Canon is not necessary
Liturgy and Doctrinal Assent
To approve, amend, continue or discontinue liturgies and make provision for any matter (except the publication of banns of marriage) to which rubrics of the Book of Common Prayer relate and to ensure that the forms of service contained in the Book of Common Prayer continue to be available for use in the Church of England. The Synod also decides the form in which ministers and officers of the Church of England are required to assent to the doctrine of the Church of England (the Declaration of Assent).
Deliberation
To consider any other matters of religious or public interest
Finance
To approve (or reject) the central church budget each year.
Recent items relating to General Synod are shown below:
November 2012

Archbishop tells Synod: We must care for those feeling 'unwanted and unsure' after women bishops vote
21 November 2012
Following an emergency meeting of the House of Bishops this morning, the Archbishop of Canterbury called…

"A potentially liberating moment for all of us": Archbishop urges Synod to vote for women bishops
20 November 2012
Shortly before the historic vote at General Synod today, the Archbishop of Canterbury said it was "time…

General Synod: Archbishop's sermon at Eucharist - 'Let heart speak to heart'
20 November 2012
In his Eucharist sermon at General Synod in London this morning, Archbishop Rowan Williams prayed for…

General Synod: Archbishop heralds "another model of Church life coming to birth"
19 November 2012
On the first day of General Synod, November Group of Sessions 2012, the Archbishop reflected on the Anglican…
Women Bishops: Enough Waiting – Sam Follett's message to General Synod
19 November 2012
In a new video message about the legislation for women bishops in the Church of England, Sam Follett,…

Women Bishops: Enough Waiting – Jan McFarlane's message to General Synod
15 November 2012
In a video message in support of the legislation, the Venerable Jan McFarlane Archdeacon of Norwich and…

Women Bishops: Enough Waiting - Janet Appleby's message to General Synod
6 November 2012
During this summer's consultation on Women Bishops, the Archbishop welcomed the Revd Janet Appleby's…

Women Bishops: Enough Waiting - The Bishop of Sheffield's message to General Synod
6 November 2012
In a new video message about the legislation for women bishops in the Church of England, The Bishop of…
October 2012

Women Bishops: Enough Waiting – The Bishop of Worcester's message to General Synod
29 October 2012
In a new video message about the legislation for women bishops in the Church of England, The Bishop of…

Women Bishops: Enough Waiting – Mark Russell's message to General Synod
29 October 2012
In urging General Synod members to back the new women bishops legislation when it returns to debate next…