General Synod: Archbishop heralds "another model of Church life coming to birth"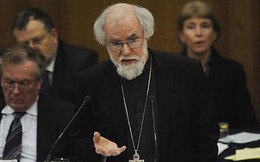 Monday 19th November 2012
On the first day of General Synod, November Group of Sessions 2012, the Archbishop reflected on the Anglican Consultative Council (ACC) in New Zealand earlier this month.
As part of a presentation on the ACC meeting, the Archbishop told Synod members he had seen "another mode of Church life coming to birth" in Christchurch after its devastating earthquakes two years ago.
"I had quite a strong sense of a church being born – another style, another mode of church life coming to birth in that particular environment which has a great deal to say to the rest of us," the Archbishop told Synod members.
He praised the vibrant partnership "between city and Church" in the aftermath of traumatic suffering.
In the pressured environment of Christchurch, the Anglican diocese was doing "truly extraordinary things in bringing the questions of faith alive for a younger generation, and mobilizing the energy and vision of that younger generation in and out of the Church", the Archbishop said.
Elsewhere in his presentation, the Archbishop said the ACC meeting highlighted for him the energy being generated by new networks springing up throughout the Communion.
In particular, he said, the ACC gave a very warm response to the Anglican Alliance – the new international network focused on relief and development work across the Anglican world.
"This has developed very rapidly and fruitfully," said the Archbishop. "I think the Communion overall has recognised it as a very, very important tool for addressing the needs of our world and also for enabling us to talk more honestly and more usefully together."
Dr Williams disagreed with criticism that ACC meetings "push to the margins some of the more difficult and contentious" issues within the Communion.
Instead he said that "very demanding" exchanges on the nature of the Communion took place in various settings throughout the meeting.
However, the Archbishop said that the emergence of new international networks – focusing on a huge range of issues, including gender, the environment, family, indigenous peoples, among others – does pose challenging questions about what are the most appropriate "instruments of Communion".
He said that we have moved on from the post-WWII era, when the solution to any problem was "to throw a committee at it".
Networks in the Communion now represent "some of the most creative, most universally supported work that we do", said Dr Williams.
In turn, he said, "perhaps the larger question that we're up against is how do we hold together the burgeoning life of networks, alliances – less formal associations across the Communion – with the unavoidable need for decision-making and managing bodies?"
Archbishop Rowan said this month's ACC meeting posed this question "more vividly than ever before".