Government & Parliament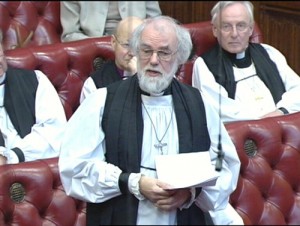 Archbishops of Canterbury have been members of the House of Lords by virtue of their office since parliament first began many centuries ago. In today's Lords there are two types of member - the Lords Temporal (usually known simply as Peers) and the Lords Spiritual (the two archbishops and 24 most senior bishops of the Church of England). The Archbishop of Canterbury is the most senior member of the Lords, being the first member entitled to take the oath of allegiance at the start of a new parliament after the Lord Speaker. Dr Rowan Williams took his seat in the Lords in March 2003, shortly after becoming Archbishop, and this section contains details of his parliamentary speeches and questions since that date. Further information on the Lords Spiritual and the Church of England in parliament can be seen here.
Recent items relating to Government & Parliament and House of Lords are shown below:
September 2010
Crisis and Recovery book launch: 28th September
28 September 2010
In a new book to be published by Palgrave Macmillan, Dr Rowan Williams, the Archbishop of Canterbury,…
July 2010

How should churches respond to the Big Society - Rowan Williams
23 July 2010
Archbishop Rowan Williams and Bob Reitemeier CEO of the Children's Society and Fran Becket former CEO…

Faith Communities in the 'Big Society'
16 July 2010
Together with the Chief Rabbi and Archbishop of Westminster and leaders of other faiths, the Archbishop…

Archbishop hosted event in support of local encounter between Christians and Muslims
15 July 2010
The Archbishop of Canterbury, Dr Rowan Williams, hosted an event at Lambeth Palace which brought together…
June 2010
Social Policy Debate - House of Lords
16 June 2010
To call attention to the role of partnerships between government and civil society in shaping social…

Sermon for the New Parliament
8 June 2010
The Archbishop of Canterbury, Dr Rowan Williams, preached at a Service for the New Parliament at St Margaret's…
House of Lords Reform: Committee Membership
8 June 2010
To ask Her Majesty's Government what will be the membership of the committee to be established to bring…
April 2010
Archbishop's article on the General Election
29 April 2010
The Archbishops of Canterbury and York wrote the following article for the Church Times newspaper.
December 2009
Dr Rowan Williams: taking a break from Canterbury travails - Daily Telegraph article
12 December 2009
Dr Rowan Williams, the Archbishop of Canterbury, talks to George Pitcher at the Daily Telegraph about…
November 2009

Archbishop and faith leaders launch 'Inter Faith Week'
16 November 2009
The Archbishop of Canterbury, Dr Rowan Williams, today invited faith leaders and Trustees of the Inter…