About Lambeth Palace
Lambeth Palace, on the south bank of the River Thames opposite Parliament, has been a historic London residence of Archbishops of Canterbury since the 13th century.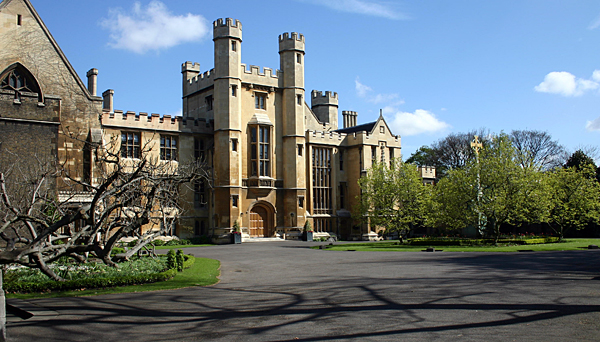 It acts as a home for the Archbishop and his family when in London and as the central office for his national and international ministry.
The Archbishop employs several dozen staff to support him in his work there. In addition to the Archbishop's senior advisers and administrative staff, the Palace is serviced by a building manager, steward, cook, gardeners, gatekeepers and cleaners, all of whom take care of the historic building and its grounds.
The Archbishop receives over 10,000 letters each year and responds to many personally. Most are from churchgoers, some from the diverse parts of the global Communion and many come from school children. Although his staff help with the replies, the Archbishop endeavours to send a personal reply to as many correspondents as he can.
The Palace serves as a venue for hospitality and events for the Church of England and in the summer its sizeable grounds play host to garden parties for organisations and charities supported by the Archbishop and Mrs Williams. Guided tours of the Palace are frequently arranged. Within the grounds of Lambeth Palace is located the Lambeth Palace Library, with its notable store of ecclesiastical documents covering- alongside the records of the Church of England- the archive of former Archbishops of Canterbury. The Lambeth Palace Library has recently begun placing much of its archived material online and its collection has been awarded designated status by the Museum, Libraries and Archives Council.
In recent years it has become necessary to increase the care and maintenance of Lambeth Palace. Following a recent environmental audit by Imperial College London and reflecting the importance placed on environmental sustainability by the Archbishop, special consideration has been given to the environmental impact of plans for future work to upgrade the fabric of the Palace. Possibilities for energy self generation are to be incorporated when all major renovations are considered in future.