Archbishop's Libya visit in pictures
Wednesday 28th January 2009
As part of a visit to North Africa, the Archbishop of Canterbury, the Most Revd & Rt Hon Dr Rowan Williams visited Libya with the Most Revd Dr Mouneer Anis, Bishop of Egypt with North Africa & the Horn of Africa, and President Bishop of the Province of Jerusalem and the Middle East, and the Rt Revd Dr Bill Musk, Area Bishop for North Africa.
The trip took place between 28 and 30 January.
During his trip, the Archbishop visited a primary school where he admired the pupils' artwork and short stories.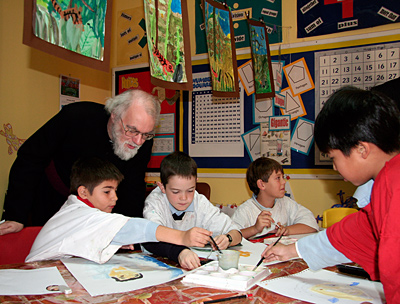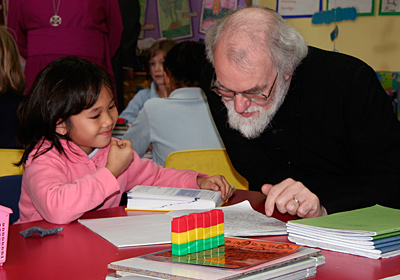 ---
He then visited the Archaeological site of Sabratha. Situated on Libya's Mediterranean coast, the Roman ruins date back to the 2nd and 3rd Centuries.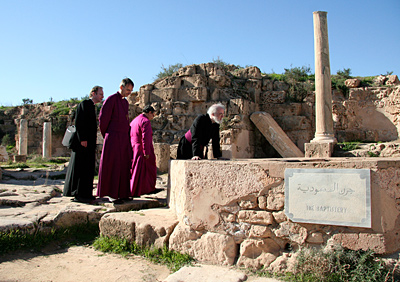 Dr Musk, Dr Anis and Dr Williams at The Baptistry, Sabratha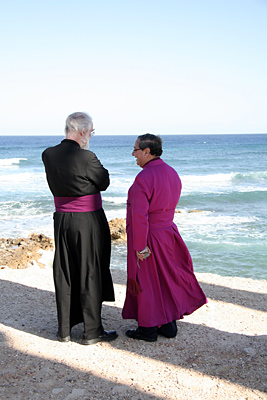 Dr Anis and Dr Williams by Libya's Mediterranean coast, Sabratha
---
Dr Williams, Dr Anis and Dr Musk held a short service of commemoration at the Commonwealth War Graves Cemetery, Tripoli. The cemetery contains 1,369 burials of different nationalities and religions from the Second World War.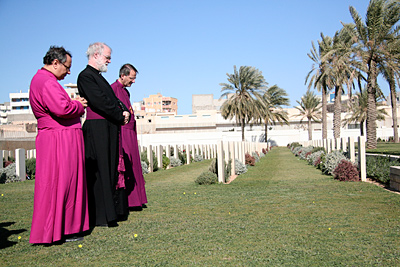 ---
The Archbishop gave a sermon at San Francesco, the Roman Catholic Church in Tripoli. During a short service of welcome and thanksgiving for his visit he preached about the importance of following St Francis' example of giving ourselves to God, praying that God will be active with love and presence. He noted that the Christian community in Libya was a poor and humble church, close to the heart of the gospel.
Click download on the right to listen to the sermon from San Francesco, Tripoli [6Mb]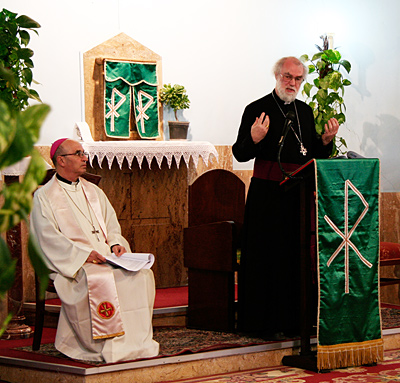 ---
The Archbishop gave a lecture titled 'How does God reveal himself? A Christian perspective' at the World Islamic Call Society (WICS), a leading world-wide Islamic benevolent organisation. In the lecture, Dr Williams discussed how Jews, Christians and Muslims alike believe in a God who freely speaks to his people, thus showing himself to be a God who cares for humankind.
Click here for a transcript and audio file of the lecture.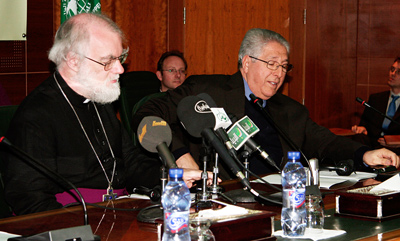 ---
The Archbishop, with Dr Anis and Sir Vincent Fean, the Bristish Ambassador to Libya, accompanied Dr Mohammad Sharif, Secretary General of WICS, to a meeting with the Libyan Head of State, Col Mu'amar Qadhafi.
The Archbishop embarked on a walking tour of Old Tripoli, a walled medina with street plans laid in the Roman period.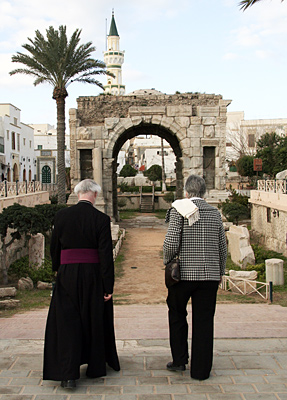 Dr Williams approaches the Arch of Marcus Aurelius
---
He also visited the Mosque of Ahmad Pasha al-Qaramanli, one of the most richly decorated in Tripoli.
The Archbishop concluded his visit by preaching at an Ecumenical Service at the Anglican Church of Christ the King (Santa Maria), marking the end of the Week of Prayer for Christian Unity.
Click download on the right to listen to the sermon from the Anglican Church of Christ the King [17Mb]