Archbishop meets with Pakistan Minister for Minorities Affairs
Friday 24th September 2010
The Archbishop of Canterbury, Dr Rowan Williams, has today met with the Pakistan Minister for Minorities Affairs, Mr. Shahbaz Bhatti, at Lambeth Palace.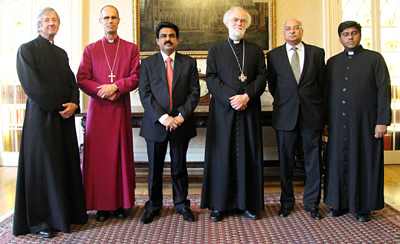 Canon Guy Wilkinson, Bishop Richard Cheetham, Mr Shahbaz Bhatti, Dr Rowan Williams, Mr Wajid Shamsul Hasan, Revd Rana Youab Khan
---
During a private meeting they discussed a number of issues currently facing Pakistan including interfaith relations, the recent floods and an escalating sense of insecurity amongst minority religious communities. Immediately following the meeting, the Archbishop said:
"We have been able to speak about some of the issues affecting inter faith relations in Pakistan, but also about some of the major issues that Pakistan faces in the wake of the disastrous and tragic floods.
Our thoughts and our prayers are very strongly with you, we hope that support from the international community will continue in the rehabilitation of communities devasted by the floods, especially in terms of work for health and education.
I may also say that I've been very much encouraged by what you've had to tell me about the development of local inter faith committees, and we've had a helpful discussion about the progress of thinking about the blasphemy laws in Pakistan, and may I say, it's been a great honour to receive you here and hear what you have to say about the situation. Be sure of our support and our sympathy for Pakistan and it's Government in these days."
The Minster said that he was "grateful for the support, prayer and solidarity extended by the Archbishop for the flood victims" and added that "We have also discussed the efforts to promote inter faith harmony, not only in Pakistan but around the globe."