Archbishop of Canterbury Awards Lambeth Degrees
Tuesday 9th November 2010
The Archbishop of Canterbury, Dr Rowan Williams, today awarded Lambeth Degrees to the Revd Dr John Harris and Professor John Harper, in Lambeth Palace.
---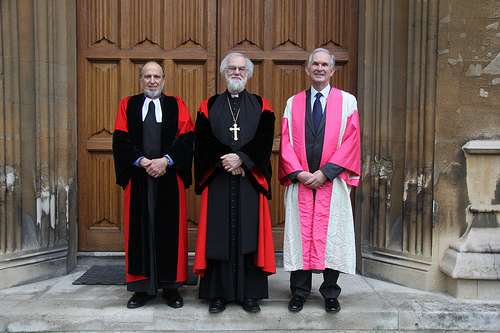 The Revd Dr John Harris was awarded a degree of Doctor of Divinity in recognition of his outstanding contribution as a Bible scholar and translator, his advocacy on behalf of Aboriginal Australians and his unstinting endeavours to raise awareness of indigenous issues within the church and the wider Australian community. After the ceremony, Dr Harris presented a portrait to the Archbishop on behalf of the Aboriginal churches of Arnhem Land in the Diocese of the Northern Territories.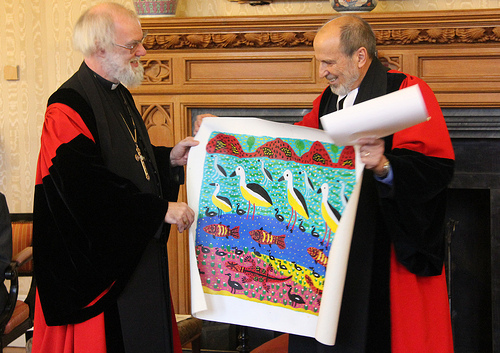 ---
Professor John Harper was awarded a degree of Doctor in Music in recognition of his distinguished contribution to the development and appreciation of church music as a scholar, administrator, teacher and composer and to a greater understanding of the relationship between music and the liturgy of the church.
---
The Lambeth Degree is a real academic award. The candidates are exempt from both residential and examination requirements and the special awards are made on merit in recognition of the recipients' contribution to religious, academic and public life.
The Archbishop of Canterbury's right to grant degrees is derived from the Peter's Pence Act of 1533 which empowered the Archbishop to grant dispensations previously granted by the Pope. The practice began during the time when attendance at Oxford and Cambridge, the only universities at that time in England, was frequently disrupted by the difficulty of travel or outbreaks of the plague. The Archbishop was empowered to grant exemption from the residential requirements necessary for a degree.
Lambeth Degrees can be awarded in Divinity, Law, Arts, Literature, Medicine and Music.
Read more about the Archbishop's Awards and Examinations.