Dee Hardwicke unveils 2011 Michael Ramsey Prize plaque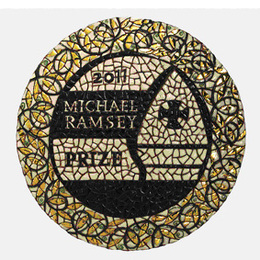 Monday 10th January 2011
Dee Hardwicke, a ceramic artist from Monmouth, has made a mosaic plaque for the Archbishop of Canterbury to present to the winning author of the 2011 Michael Ramsey Prize for theological writing.
Dee's plaque, a mosaic of the Michael Ramsey Prize logo, will be presented to the winning author, along with a cheque for £10,000 at a Gala lunch at the Telegraph Hay Festival on 27 May 2011 by the Archbishop of Canterbury, Rowan Williams.
"I am very excited that the Archbishop has asked me to produce the plaque for the 2011 Prize," said Dee Hardwicke. Dee also produced a plaque for the 2009 Prize.
The mosaic features the award logo surrounded by 18 carat gold lustre olive leaves.
In addition to the plaque, Dee has created exclusive commemorative tiles which will be presented to judges, runners-up and others who have been involved in the Michael Ramsey Prize this year. The tiles feature the same olive motif and gold detail as the plaque.
Each tiny piece of mosaic is cut by hand from wet, rolled out clay and then painted with specially mixed ceramic slips. The pieces are glazed and fired up to three times. 18 carat gold lustre is used in selected areas. The process is an intense but fascinating one and creates mosaics and tiles that have both an intimate and jewel-like quality.
An equally intricate mosaic plaque by Dee hangs in the Archbishop's home at Lambeth Palace. It was presented to the Archbishop when he came to unveil the mosaic triptych of St David in the chapel at Monmouth School in 2007.