Archbishop - 'God has shown us how to live a human life'
Tuesday 22nd September 2009
The Archbishop of Canterbury gave a sermon at Koran Girls' School in Tokyo (St Hilda's School) as part of his provincial visit to Japan. The service was also attended by Bishop of Tokyo Peter Jintaro Ueda and Bishop of Leicester Timothy Stevens.
Koran Girls' School in Tokyo (St Hilda's School) – established in 1888 by Bishop Edward Bickersteth to enhance women's education based upon the spirit of Christianity. Bishop Bickersteth was sent to Japan by then SPG in 1886. He was the person who was instrumental in jointly implementing the missionary activities of CMS and SPG in Japan. He was consecrated to bishop by the Church of England in 1886 just before he came to Japan and became the second Primate of NSKK. Koran Girls' School is for girls at age of 12 through 18 for 6 years, before getting to university or college, and its current enrolment is about 1,000 students.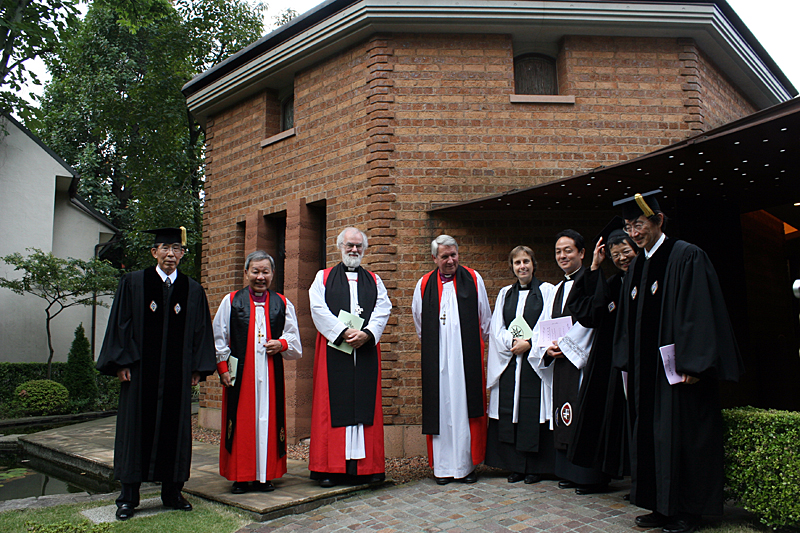 The Archbishop of Canterbury, the Bishop of Tokyo Peter Jintaro Ueda of Tokyo, Bishop Timothy Stevens of Leicester, and members of staff from the school.
---
Read a transcript of the sermon below, or click download on the right to listen [12Mb]
I want to say a few words about the reading we heard from The Gospel. But I want to begin by taking you back to your first few days in this school. Often when you go to a new school you don't quite know what the right thing is to do. Perhaps everybody else seems to know but you don't. Now, of course, if you have good teachers (and I know that you have good teachers) they will tell you what to do, but perhaps the most important thing is you watch what other people are doing, and if people are feeling kind to you, they will show you what to do.
Now when Jesus says, "I do not call you servants any longer because servants do not know what their master is doing", maybe he's thinking of something like this: "How do we learn what the right thing is? How do we learn how to live a human life?"
It's true that God has given us rules on how to live a human life but it's much more important that God has shown us how to live a human life. God doesn't just give us instructions from a distance – God comes into the middle of the world and he lives a human and he shows us his friends how to live. Just as in a school we learn from watching one another, so in the Church, in the community of Jesus Christ's friends, we learn from watching Jesus. So what do we see if we watch Jesus? We see him reaching out his hands to those that everybody else has forgotten. We hear him speaking words of love and friendship to those who think that never again will they be loved. We see him speaking words of promise to people who are tempted to live in despair. But above all, we see him giving his entire self in love without reservation, without fear. He is prepared to let go of his safety even of his life, so that others may live. And so we, who are his friends, we keep our eyes on him and we watch all that.
And so, slowly, we begin to learn how to live a really human life. It's not living a human life when we are too busy to speak words of promise to others. It's not living a human life to keep ourselves so safe that we can't understand the suffering of others. A real human life is one where we look out for those who are forgotten by other people. A real human life is one where we give other people a reason to live. We show them that they have friends; we show them that there is hope.
So if we are the friends of Jesus, it's because we know and we see what he does. We seek to live like that and to make more friends for him. In any human community, this is how Christians should behave. And the same is true here in a school. Each one of us needs to give everyone else a reason to live. Each one of us is called to show to the person next to us that they're not forgotten. And so when we go out from school, that's the message we have for the whole of our society in which we live.
The message is that no one is forgotten, no one is beyond help. The message is that God is willing to be the friend of anyone and everyone and we show it by our willingness to be the friends of anyone and everyone. And so perhaps one of the prayers that we offer for a school like this, is that it will be a place where people learn. People learn about the friendship of God because of what they hear of this place in worship. Then they begin to show that to one another, and to carry it out into the rest of life. And that perhaps is what Jesus means in the words he speaks in the Gospel: I've chosen and appointed you to go and bear much fruit, the kind of fruit that endures.
He's given us a job to do, and that job is to go and make friends in his name. That is the kind of 'fruit' that endures. The results that will make a long term difference to our lives, and the lives of those around us. And if we live like that, Jesus says to us: ask the father, ask God for whatever you like, because your lives will be open to the gifts he wants to give. Wherever you go, you will carry the gifts of God with you – in your face, in your words, in your hands, in your eyes. So may God make us his friends, may God make us friends to one another, and may God help us make the world a place of friendship.
© Rowan Williams 2009