Archbishop of Canterbury welcomes new Archbishop of Westminster
Thursday 21st May 2009
The Archbishop of Canterbury, Dr Rowan Williams, has today given a greeting to Archbishop Vincent Nichols at his Installation Mass as the new Archbishop of Westminster.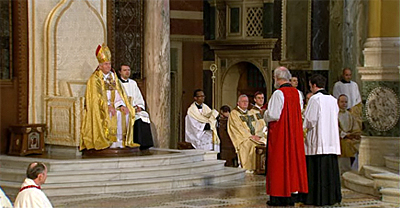 Click downloads on the right to listen to the Archbishop of Canterbury's greeting [2Mb] and to view the Order of Service.
A transcript of Dr Williams' greeting given at Westminster Cathedral follows:
In recent years, the relations between the churches in this country have become closer and warmer than perhaps ever before. The fact that the Anglican and Roman Catholic Bishops in England have been able to meet more than once for prayer and reflection, as well as for discussion of the challenges we share in witnessing to the Christian faith in our nation, is a welcome development, and a sign that we all recognise common challenges and a need to pray and act together.
The Roman Catholic and Anglican communities in England and Wales have the God-given task, along with all our other brothers and sisters in the faith, of making the Good News of Jesus compelling and attractive to a generation deeply in need of hope and meaning, in need of something they can trust with all their hearts.
Dear Vincent, I hope that as you join us as a co-president of the Churches Together in England we may work together at this task: as I had the privilege and delight of working with your predecessor, who was and is such a friend and example to us all.
May God give you the strength, the vision and the wisdom you need for the great responsibility he has laid upon you. Be sure of the love and prayers of all your colleagues in the churches of England and Wales as you take up the yoke of Christ in this fresh ministry. We give God thanks for you, and hope for many years of fruitful and exciting work together for Our Lord, in the service of his Kingdom and his justice.