Cross of St Augustine Award for Dr Patrick Augustine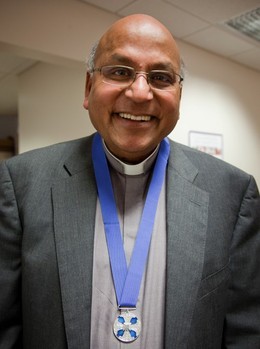 Sunday 16th December 2012
The Archbishop of Canterbury has awarded the Very Revd Canon Dr Patrick Pervez Augustine the Cross of St Augustine. The Cross of St. Augustine was presented to him during the worship service at Christ Church, La Crosse, Wisconsin, USA.
The Archbishop wrote in a letter to Canon Augustine:
"It would give me great pleasure to honour you in this way by presenting you with the Cross of St. Augustine. Sadly I am not able to do this personally but I have asked Bishop Ed Leidel to make the presentation on my behalf."
Bishop Leidel read the following citation written by the Archbishop of Canterbury, Lambeth Palace, UK:
Citation for the Award of the Cross of St Augustine
The Very Reverend Canon Dr Patrick Augustine
16 December 2012
Patrick Augustine's journey of faith began in Pakistan as a third generation Anglican cleric in a primarily Muslim society. Having studied political science and English literature at Punjab University, he then took a Diploma in Theology at Lahore Divinity School. For two years, he served as General Secretary of the Student Christian Movement of Pakistan and subsequently became an Army Chaplain.
His interest in ecumenism took its roots during the 1970s when he attended the World Council of Churches Assembly in Nairobi, Kenya, to be followed within twelve months by the World Student Christian Federation General Assembly in Sri Lanka. Shortly afterwards, he participated at an International Retreat in Taizé, France, and, subsequently, at Ecumenical Seminars in Geneva. His attendance at these gatherings underlined his commitment to the search for unity amongst Christians and, importantly, gave rise to a lifelong commitment to defend the free exercise of faith in countries where believers are marginalized and persecuted.
His move to the United States in 1983 opened up other opportunities for priestly service at parochial, diocesan and national levels within a new and diverse cultural environment. He continued to travel extensively, promoting evangelism and world mission, fostering inter-faith dialogue and ecumenical endeavour. Described by fellow Christians in Sudan as an "Ambassador of Peace" and a "Voice for the Voiceless", he has brought hope and reconciliation to communities far and wide which have endured decades of conflict, violence, poverty and persecution. His care, compassion and concern, rooted firmly in his own faith and belief, remind us powerfully of our common humanity.
I am delighted to make this award to Patrick Augustine in recognition of his contribution at national and international level to the promotion of evangelism, ecumenism and the free exercise of faith.
+Rowan Cantuar: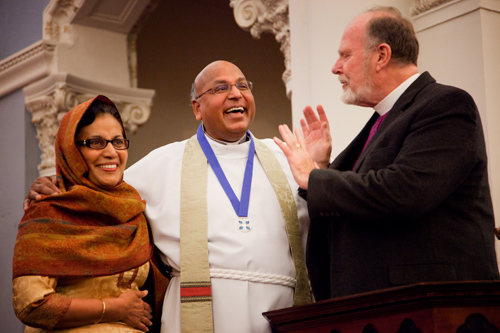 ---
The Cross of St Augustine was founded by Archbishop Michael Ramsey. It was first awarded by him on 19 February 1965. It is a circular medallion bearing a replica of the 8th Century Cross of Canterbury and on the reverse side is an engraving of the chair of St Augustine at Canterbury. The ribbon is of "Canterbury Blue" and it is worn around the neck by clergy and on the left breast by lay people.
This award has historically been awarded to clergy and lay people of foreign churches who have contributed conspicuously to advancing friendly relations with the churches of the Anglican Communion. More recently it has also been given for outstanding service within the Church of England whether centrally or in the dioceses, or the Anglican Communion as a whole, and to those who have contributed to advancing relations between the various Christian communions and churches.