Archbishop greets the newly elected Greek Orthodox Patriarch of Antioch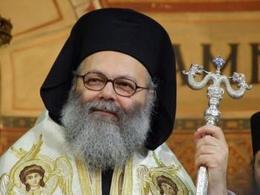 Tuesday 18th December 2012
The Archbishop of Canterbury, Dr Rowan Williams, welcomes Metropolitan Youhanna's election as the new Greek Orthodox Patriarch of Antioch.
The Patriarch-elect Youhanna X (Yazigi) was elected by the members of the Holy Synod on Monday during a special session held at the Balamand Patriarchal Monastery, Lebanon.
The Archbishop's greeting is below:
To His Beatitude YOUHANNA X
Greek Orthodox Patriarch-elect of Antioch & All the East
Your Beatitude:
It is with the greatest joy that I greet you and send my congratulations on your election yesterday to the Patriarchal Throne of Antioch. It has been a pleasure and honour to know you in our pastoral ministry in Western Europe, and your work here has increased the already great esteem and affection we feel towards the Patriarchate and its clergy and faithful.
As you take up this dignity and burden, at a time of such trial for the faithful in Syria and the Middle East, we pray very earnestly that you will be strengthened and upheld by the prayers of all your holy predecessors, especially the Prince of the Apostles himself, and by the prayer and example of His Late Beatitude, Patriarch Ignatius of blessed memory, who so diligently worked for the renewal and enlargement of the life of all his people and whose witness has illuminated the faith of many in distant lands.
May the Holy Spirit anoint and protect you for this calling, and may Our Lord, Whose Nativity we are about to celebrate, sustain you in the care and nourishment of His people, in that place where 'the disciples were first called Christians'.
Your brother in Christ:
+ Rowan Cantuar:
From Lambeth Palace, London
18 December 2012
Note
Born in Syria in 1955, the Patriarch-elect was raised and educated education in Latakiya, Syria, and received his theological training in Balamand and Thessaloniki. He became a monk of the Monastery of St Paul on Mount Athos and was later ordained. Most recently he was elected in 2008 as bishop of the Patriarchate of Antioch's Diocese of Western and Central Europe, which includes Great Britain and Ireland.
For more biographical information see http://www.antiochian.org/content/patriarch-elect-youhanna-x-antioch