Archbishop expresses sorrow at the death of Patriarch Ignatius IV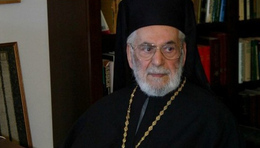 Thursday 6th December 2012
A Message of Condolence from The Archbishop of Canterbury to Their Eminences the Members of the Holy Synod of the Greek Orthodox Patriarchate of Antioch and All the East and the Faithful of the Patriarchate throughout the world:

Your Eminences,
dear Brothers and Sisters, Dear Friends:
It was with great sorrow that we learned of the death of His Beatitude Patriarch Ignatius IV. He was without doubt one of the most outstandingly gifted, energetic, learned and holy Orthodox hierarchs of our age. His work with young people has been of enormous significance; but he will also be remembered for his generous encouragement of some of the most creative Orthodox theology of the twentieth and twenty-first centuries. So many remarkable figures of the Orthodox renaissance in Europe were assisted and inspired by His Beatitude's enthusiasm. More recently, he has been a tireless worker for reconciliation in Syria, and his death will be a serious loss to all those who are struggling for a sustainable and just future for that troubled country.
I had the privilege of enjoying His Beatitude's hospitality in Damascus some years ago and treasure my memories of his wise counsel and warm welcome.
Our prayers are with the faithful of the Patriarchate as you give thanks to God for the life and witness of Patriarch Ignatius; and with you we commend him to our Lord and Saviour and pray, 'May his memory be eternal'.
With every blessing in Christ:
+ Rowan Cantuar: