New Statesman article - More than a prayer: Faith communities' response to sexual violence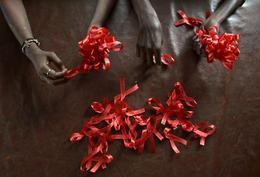 HIV positive women make red ribbons, the universal symbol of awareness and support for those living with HIV. Photograph: Getty Images
Friday 30th November 2012
In a joint World AIDS Day article for New Statesman magazine online, Dr Rowan Williams, the Archbishop of Canterbury, and Michel Sidibé, Executive Director of UNAIDS, discuss how faith communities are tackling gender based violence.
The full article follows:
More than a prayer: Faith communities' response to sexual violence
Excerpt from the letter of Gracia Violeta Ross, co-founder of Bolivia's first organization for people living with HIV
"As the daughter of an evangelical pastor, a rape survivor and an HIV positive advocate, these issues [of church responses to sexual violence] are very close to my heart. I can tell you the worst experience of my life was the experience of rape. I remember a Christian organisation tried to address these issues, but it was not easy. Sadly, some of the reasons were that most church and religious leaders are men, and, as such, they often fail to recognise the power they have. Yes, they might be Christian, but they are still men who grow up in the teachings of a dominating gender system, which hardly recognised the voices and rights of women. Also, when trying to do some work related to sexual violence, often in the religious communities we tend to 'spiritualise' the topic. Addressing sexual violence needs prayers but much more than prayers."
Michel Sidibé, Executive Director of UNAIDS
Today is World AIDS Day.
It is unacceptable that one in three women around the world will be raped, beaten, coerced into sex, or otherwise abused in her lifetime.

On World AIDS Day, we celebrate our continuing progress against the HIV epidemic. But we must recognize again this year that women and girls still face the higher risk of infection—and why, Gender inequity is the fuel that feeds the fire of violence against women and girls, and it is both a cause and consequence of women's increased vulnerability to HIV.
In many societies, women and girls face unequal opportunities, discrimination, and human rights violations. And while laws may exist on the books to protect their rights and give them greater opportunities, these rights aren't always fulfilled or supported by society and its leaders—including faith leaders.
I recently received a letter from Gracia Violeta Ross, an outspoken activist for women who have survived rape and are living with HIV—like herself.
As many survivors do, she turned to her church for support, but found it lacking in many ways. I agree with her that it takes more than prayer to heal and empower women who have endured sexual violence—to transform them from victims to survivors. It takes compassionate leadership that reaches beyond scripture and traditional rites and teachings.
While the church—or the synagogue, temple or mosque—can be a rock-solid source of unmoving strength to a community, it must also be able to respond sensitively to the needs of women who have been hurt. For example, can an institution whose leaders are almost always men truly perceive the fears and hear the voices of women at risk of violence? And when it advocates for strong families, can it appreciate that the danger to women and girls often lurks inside their own homes? Do care, support and justice extend to women who sell sex or use drugs? Or who are transgendered? Yes. There should be no line that distinguishes who deserves and who does not.
Women who have been victims of violence need many things: To have their dignity restored and to be protected from stigma and shame. To ensure their attackers brought to justice. To have access to psychological and medical care, including sexual and reproductive health. And ultimately, to be empowered, like Violeta, as leaders in achieving full equity in their worlds.
My question to Archbishop Williams is this: Beyond prayers and spiritual comfort, what more can the church offer to survivors of sexual violence?
Dr Rowan Williams, Archbishop of Canterbury
Gracia Violeta's letter is moving and disturbing. You are quite right to underline the concerns it raises about how religion can sometimes reinforce violent and oppressive attitudes to women, how it can help to silence honesty and protest, and so can make even worse the position of women who are at risk of and from HIV infection.
What can be done? A lot has already been initiated to challenge the distorted theology that can underlie violent or collusive behaviour. Many churches I know have taken the biblical story of the rape of King David's daughter Tamar as a starting point for rethinking their approach and clarifying the unacceptability of the male behaviour depicted in this and other stories. If we are to make progress here, we have to expose toxic and destructive patterns of masculinity. And for cultures steeped in the Bible, it is important to start by showing that the Bible does not endorse or absolve violence against women.
But in addition, there needs to be a coherent and persistent message about breaking the silence. The "Silent No More" campaign has found wide support; and the launch in 2011 of the We Will Speak Out coalition of faith groups and faith leaders, in the wake of the research done by Tearfund's Silent No More, has proved a benchmark for challenging communities and leaders who fail to see this as a priority. Our own Anglican archbishops from DR Congo, Rwanda and Burundi have had a leading role in this. And last year's conference of Anglican primates issued a full and robust statement on gender-related violence which has now been strongly reaffirmed by the global Anglican Consultative Council.
These policy statements rest on a lot of impressive grassroots practice, linking survivors to medical, legal and counselling support, and local livelihood training schemes – and also naming and shaming the culture of impunity, especially the impunity of those who in any way exercise power, in churches or elsewhere. But so often in my own travels I have found the most important service the Church can offer is to be a place where it is safe to speak about what has happened. Last year in DR Congo, and more recently in a Church-based centre in Papua New Guinea, I had the painful privilege of spending time with women who had accessed the services offered by the Church and were finding a new voice and new courage to confront those who had humiliated and abused them, and to support one another. These responses by local faith communities are inspiring, but need to be far more widely replicated.
Building a new culture of openness and mutual support is essential. Out of this grows the sort of comprehensive change we want to see – change in understandings of masculinity, the end of paralysing stigma, a new approach to legal redress, a place for the leadership and advocacy of survivors themselves, an audible voice for women.
We sometimes speak of a fivefold response – Prevention, Protection, Provision of services, Prosecution and Partnerships. All I have mentioned so far illustrates how this looks in practice. We are morally and religiously bound to give the highest priority to making this response a universal reality, and are glad to have the support and solidarity of UNAIDS in this. It is a calling that has been laid upon us by a God whose will is always for human dignity and compassion.
How can UN agencies strengthen their partnership with faith communities to respond more effectively to ending sexual violence?
Response from Michel Sidibé
For myself, I make a point of sitting down with religious leaders and faith-based organizations in the countries I visit and talk about ways to partner for people and communities. It is a priority of UNAIDS to engage religious leaders for thoughtful action on critical human rights issues such as sexual violence. In the coming year, I will be traveling to many countries which have high levels of sexual and gender based violence and mother-to-child transmission of HIV, and will convene with local religious leaders and organizations that are working specifically on these issues.
UNAIDS is currently partnering with the Ecumenical Advocacy Alliance, the Global Network of People living with HIV and the International Network of Religious Leaders Living with and Affected by HIV to develop a framework for dialogue around HIV. We intend to give religious leaders, people living with HIV, women who have experienced rape, and people most vulnerable to HIV who have been stigmatized greater support and guidance for discussing these difficult issues, hopefully leading to faith community responses like the ones the Archbishop witnessed in Africa. I am confident that we will all come to greater understanding through this process, and the lives of women, their families and their society will be improved and enriched.