Archbishop awarded freedom of the city of Canterbury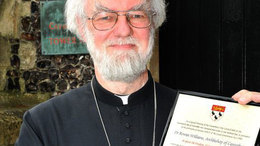 Saturday 17th November 2012
The Archbishop of Canterbury Rowan Williams was today awarded the freedom of the city of Canterbury a month before he steps down as the spiritual head of the Anglican Church.
Dr Williams was made a freeman of Canterbury in recognition of his work in the community.
The Archbishop Rowan said it was "a delight" to be given the freedom of Canterbury, which he said he and his family consider home.
"I am deeply grateful to the City of Canterbury for this honour. I and my family love the city, and treasure its past, present and future, and it is a joy to be associated in this way with the city's life," the Archbishop said.
Canterbury City Council said the Archbishop's "care and compassion for the people of the diocese is illustrated by his support of charities such as Catching Lives and Porchlight, and his work in the district has had a huge impact on the lives of many of its most vulnerable residents."
The award is often handed to those whose reputation has enhanced the image of Canterbury on a county-wide or national level.
Archbishop Rowan joins the Prince of Wales, ex-Archbishop of Canterbury Lord Carey of Clifton and former hostage Terry Waite, who have previously been awarded the freedom of Canterbury.
The Archbishop steps down next month after a decade in the post to become Master of Magdalene College, Cambridge.
He will be succeeded by the Right Reverend Justin Welby, Bishop of Durham, who will be enthroned as Archbishop at Canterbury Cathedral on March 21 next year.