Archbishop sends delegation to enthronement of new Coptic Pope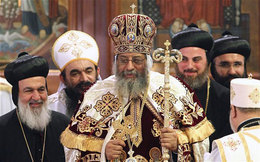 Sunday 18th November 2012
The Archbishop sent the following message to the enthronement of His Holiness Pope Tawadros of the Coptic Orthodox Church in St Mark's Cathedral, Cairo, 18 November 2012.
The Archbishop was represented at the celebration by President Bishop Mouneer Anis, Bishop of the Diocese of Egypt and Primate of the Province of Jerusalem and the Middle East, Archbishop Michael Jackson, Archbishop of Dublin and Primate of Ireland, and Canon Jonathan Goodall, his Ecumenical Secretary.
His Holiness TAWADROS
Pope of Alexandria & Patriarch of the See of St Mark
Your Holiness: Dear Brother in the Lord
It was with great joy that we learned of your election, under the guidance of the Holy Spirit, as Pope and Patriarch of Alexandria; and it is with the deepest respect and love in the Lord that we greet you as the successor of the Apostle and Evangelist St Mark, praying that the spirit and power of that Apostle may live in you as your new ministry for Christ's people is inaugurated in Cairo today.
Many say that the gospel of St Mark was written to a Christian community facing hardship and uncertainty, so as to encourage them to bear the cross, to witness without fear, and to announce daily in word and deed the new world that has begun in the Resurrection of the Lord. We know that in Egypt today our brothers and sisters in the faith need to hear just such a gospel message, and we pray that with you as their new Father in God, the Coptic Orthodox Church will be a bold, prayerful and loving preacher of this Good News, and a worthy successor to the great Pope Shenuda of blessed memory.
As Anglicans, our friendship with the Coptic Church is a treasured reality, and we hope that in the years ahead we may continue in regular contact and fraternal exchange in whatever ways are possible, so that we may support each other in prayer and love. We greatly honour all those who continue to bear Christian witness in the lands where Our Lord walked in the days of His Incarnation, and it is our most earnest hope that they will go on playing a central role in securing peace, reconciliation and justice in the whole region, demonstrating once again that in the neighbourhood of the Church and under its protection all may be sure of respect and support: 'the birds come and make their nests in its shade' (Mark 4.32).

Your Holiness, Dear Brother in the Lord:
we uphold you and to all our beloved fellow-Christians in Egypt,
in our daily prayers:
+ Rowan Cantuar:
London, 18 November 2012