Archbishop's speech at the Lord Mayor's Dinner at Guildhall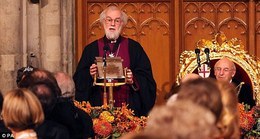 Monday 12th November 2012
The Archbishop of Canterbury, Dr Rowan Williams, delivered a speech at the annual Lord Mayor of London's Banquet, held in Guildhall, London.
My Lord Mayor, my Late Lord Mayor, my Lord Chancellor, Prime Minister, Your Excellencies, My Lords, Aldermen, Chief Commoner, Ladies and Gentlemen:
It is increasingly becoming an annual convention to say that an outgoing Lord Mayor has steered the civic ship through a stormy season: there seem these days to be no other kinds of season. But David's steerage has been marked by some very distinctive emphases. His Bradford origins have left him in no doubt about the significance of manufacturing industry for the whole country, and he has been a consistent and powerful advocate for the City's involvement in stimulating the real economy (that real economy whose needs have been very clearly set out already tonight by the Lord Mayor and the Prime Minister) through the support of manufacturing – one of the central engines of recovery, as well as of corporate self-respect. He has allied his concerns for the City's role in the future of the national economy with interests in the promotion of individual health and fitness, particularly for disadvantaged young people – including both themes under the umbrella motto of 'Fit for the Future'. And he has encouraged candid and searching discussion of the ethics of the City in a number of low-key but important encounters that have allowed anxieties and hopes to be aired fully and honestly. I must acknowledge a special debt to him in this area, and record my thanks for the opportunities of conversation he has made possible; but many more will be grateful for events like last month's 'Investing in Integrity' conference, held under his aegis.
As part of his commitment to the legacy of the historic manufacturing industries, David has been a strong supporter of the Campaign for Wool (Bradford, you may recall, was known as the wool capital of the world in the nineteenth century). I have a personal interest, of course, as a woolly-minded person (if you believe the press); but more generally, looking around at the handsome variety of fabrics on display at this occasion each year, this seems apt enough; I have sometimes remarked that this is one of the few occasions in the year when bishops feel underdressed…You may remember an elderly cartoon, showing a rather nondescript suburban husband being greeted at the door by an indignant and suspicious wife; he is wearing the full canonical dress of a cardinal, and his wife is saying tearfully, 'There's someone else, isn't there?'
Having spent the last three weeks in Papua New Guinea and New Zealand (as a sort of minesweeper for the Prince of Wales, it appears), I've become used to a variation of this sense of being underdressed. Throughout the Pacific, the custom is to greet strangers with an elaborate display of ritual hostility: in PNG, you will be met by a wonderfully costumed set of figures, hung with feathers, shells and boar's tusks, even more impressive than the regalia on view in this hall, if I dare say so, one of whom will run at you with a spear. You are meant to stand there calmly to demonstrate your equanimity – which is a little taxing the first couple of times. I have a private fantasy that when poor Captain Cook made his fatal landfall in the New Hebrides*, someone said to him, 'Don't worry if someone rushes at you with a spear, old chap; it's just their way of saying hello…' But here I am to tell the tale. And usually you discover that the ferocious warrior who has just shown every intention of skewering you is a lay reader or churchwarden or something, who will shortly be seen singing 'What a friend we have in Jesus' with the choir or reading from Galatians. I'm uncomfortably aware that running at bishops (let alone archbishops) with a lethal weapon is probably something a number of British churchwardens have toyed with from time to time; so it seems reasonable to add, 'Don't try this at home'.
PNG may be picturesque, but it is also a devastated country – devastated by corrupt government and environmental exploitation on a scale that beggars belief, with virtually no profits finding their way into infrastructure, healthcare or schooling, leaving the churches with an almost unmanageable burden – though one that they shoulder willingly and energetically. A new government shows at last some signs of tackling this and connecting the exceptional natural resource riches of the country with the needs of the people who live there; but it's a long job. It pointed up as dramatically as could be the essential moral role of the politician, which is to prevent private wealth and public good drifting irreparably apart. It is just this concern, of course, that has animated the ongoing discussions about ethics and economics which I've referred to and the lively debates about partnership and the strengths and weaknesses of localism and volunteering that the present government has helpfully generated. And this in turn leads me to a reflection on another aspect of this Pacific trip.
I had the privilege of visiting Christchurch in the south island of New Zealand for a couple of days, to see the effects of the appalling earthquakes of 2010 and 2011 – and also to talk with church and civic authorities about the plans for reconstruction. Despite the scale of the destruction caused by the two major shocks, the people of the city were engaging enthusiastically with the challenge of shaping a new identity for the city. They had taken the opportunity of asking seriously what kind of city people actually wanted to live in; and the answers were interesting. Apart from the obvious theme of limiting risk in the design and location of new buildings, there was a general wish to preserve and strengthen Christchurch's character as a 'green' city in every sense – a city with plenty of space, but also one that used sustainable and local materials. The plans I saw showed a low-rise city, a well-landscaped river frontage with a lot of grassy areas, and excellent provision for the presence of arts and entertainment in the heart of the city. The response to the earthquake had been to think afresh about what a civic environment on a human scale might look like.
I don't want to labour the metaphor; but it is inescapable. Earthquakes happen in more than one way, and the economic aftershocks of 2008-9 are still making themselves felt. Have we given ourselves the chance to think, like Christchurch, about what kind of 'low-rise', human-scale economic environment might be imaginable, built in a way that would minimise the risks if the ground shifts under us again? This is the subtext of those conversations that David and others have been promoting, and there is still plenty of work to be done on it.
And of course we have – almost without noticing it – had the chance to do some of this work in another context over recent months; in Christchurch I found myself thinking of this more than once. Look at some of what the Olympic Village came to symbolise for Lodnon: a regenerated area, using open green space creatively; a citcyscape characterised by some very imaginative environmentally friendly building; a careful interweaving of short and long-term planning for a mixture of social and private housing of solid quality; a mosaic of partnerships, overseen by a courageous and persistent statutory authority doing some of the brokering and balancing; and all within a context where people both gifted and vulnerable were being celebrated, and where enthusiastic volunteering (much of it nurtured in countless local churches and faith communities) made small and not-so-small miracles happen. Lest we spend too much time on abstractions and ideals, we could do worse than look at this local triumph in all its dimensions and ask what we have to learn from it in thinking through how to respond to our own social and economic earthquakes.
Well, all this remains on the agenda of your successor, David, as it will be on the agenda of mine – and I have no doubt that my successor's background will make him a far more effective contributor to this discussion than I have ever been. I know that he will be at least as grateful as I have been for the friendship and intelligent counsel of so many in the City, especially successive Lord Mayors. Once again, David, thank you for your support and solidarity and hospitality; and I add to this my warmest thanks to Liz for her indispensable part in this mayoral year. I am glad, incidentally, that her sense of duty is kept in realistic perspective: I was delighted to learn that, when the Bishop of Bradford was preaching in the City earlier this year, both Liz and the Bishop's wife abandoned the scheduled pre-service coffee in order to go and watch Colin Firth receiving the Freedom of the City: thus do our spouses keep us humble. Thank you both for so many kindnesses and for the commitment you have shown to the common good in this past year. And it is with great personal pleasure that I invite you all to stand and drink the health of: the Late Lord Mayor and the Court of Aldermen.
* correction - Captain Cook died in Hawaii.