Archbishop: Serving Jesus means "breaking down walls"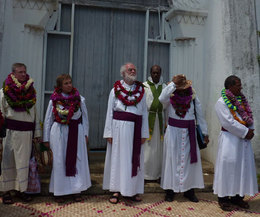 Tuesday 23rd October 2012
In a sermon preached in Dogura, Papua New Guinea, Archbishop Rowan Williams said that when we serve one another, we serve Jesus.
Reflecting on what service we can do for Jesus, the Archbishop said that "we can serve in the way that he serves." Preaching to a congregation very different from those in London, or Canterbury, or Norwich, Archbishop Williams celebrated the cultural variety of the Anglican Communion. However, he reminded us that serving Jesus means "breaking down difference, bringing people into a family of love, in our own neighbourhood, in our own Province, in our nation, in the whole world."
The full text of the sermon follows.
Sermon at the Cathedral of St. Peter and St. Paul in Dogura, Papua New Guinea
23 October 2012
In the name of the Father and of the Son and of the Holy Spirit. Amen.
It is wonderful to be with you in this very special place this morning; wonderful to be here in a place where the Christian faith was first planted in Papua New Guinea; wonderful to see this great building, a testimony to the faith of many generations. And wonderful to see that that faith is still alive here and at work in the lives of so many people of every age. Wonderful to see all of the young people from the schools here, and it is my joy to give you the greetings of your brothers and sisters in the Church of England, who love you, who think of you, and who pray for you, and who give thanks to God for the witness and Christian faith which began in this place, here at Dogura, and which continues now. I note that Bishop Jonathan, who has come with me fromEngland, would want also to bring you greetings from his own diocese. Perhaps before I say any more, may I ask Bishop Jonathan to say a word of greeting also.
Bishop Jonathan Meyrick: 'Thank you Archbishop very much. It is indeed a great pleasure to bring you greetings from the Diocese of Norwich, which is a part of England from which Archbishop David Hand came before he came here. And our chief bishop there, Bishop Graham, particularly asked me to say that he hoped I would pass on his greetings, his love, and the assurance of his prayers. I know that the whole diocese was praying for this whole Province on the day on which Archbishop Rowan began this great visit here, which I am so delighted to be part of, thank you. As I approached this cathedral, I could see that it was very similar to the cathedral we have in Norwich – the same style of rounded arches and strong pillars that go all the way back to when the Church was building churches and cathedrals in the 12th Century – a long, long, long time ago. And this building reminds me so much of that cathedral in Norwich, and it's our prayer that your faith will be as strong as these pillars, and your love will be as open as these rounded arches for all those amongst whom you live and work. But please know that we are praying for you as you seek to be those things. Thank you.'
We've heard in the Gospel reading Jesus telling his friends to be ready to meet him when he comes. 'Be dressed for work,' he says, 'be dressed for service. Get ready to serve at every moment.' And when he tells us that, he tells us that in every moment of our Christian life there is somebody near us who we can serve, who we can help. And when we turn to serve them, ready for work, dressed for service, we are serving him. That is the heart of our life as disciples, as friends and followers of Jesus. Ready at every moment for service, and ready to see in the people around us the face of Jesus himself. Jesus tells us more than once that, when we serve one another, we serve him. So, day by day, we look around and see where Jesus is. Jesus does not show his face to us in the way that he did to his first friends two thousand years ago, but he does show his face. He shows his face when we see someone who is in pain, or someone who is in need. He shows us his face there, and he says, 'Do to them what you would do to me. Serve me as you serve them.'
What kind of service can we do for Jesus when we meet him and see him in the faces of those around us? This morning's reading fromSt Paul's letter to Christians inEphesusbegins to give us an answer, because there St Paul tells us what Jesus has already done for all of us. There St Paul tells us how Jesus has already served us. And how do we want to serve him? Well, we can serve in the way that he serves. How does he serve us? St Paul tells us, by breaking down the walls that divide us by making one people out of many people. The greatest service that Jesus himself gives to us is to bring us together, to give us the love and the strength, to overcome quarrelling and rivalry, to make one people out of many. That is what the Church has always tried to do. When the first bringers of the Gospel landed here, they were trying to make new friends out of strangers. They were trying to bring still more people into the one people of God.
Now, over the centuries sometimes sadly Christian people have understood this to mean that you must all be one and the same, and one of the joys of coming to the Church here is to see that you have not allowed people from elsewhere to make you all the same, to make you the same as us. When I am greeted here by so many people performing traditional dances, I think, 'Thank God the English did not succeed in making you like us.' You have proudly kept what makes you yourselves, and yet now you are one people with us, one people with us on the other side of the world, with your brothers and sisters in the Diocese of Norwich. With us in Canterbury and in London you are one people, one family with us. By the will of God, the act of Jesus Christ, we are one family. And so may it long continue. That is how Jesus serves us. He takes away what divides us from one another. He makes us to be not afraid of strangers, and of people who are different, because he says, 'By the strength of my love and the power of my spirit, I can make you one family, even with those who you don't know, even with those you don't like. I can make you one family.' So when we try to serve in the way that Jesus serves, when we are stripped for action, dressed for service, then we think part of our service will be to try to make people one family. We look not only for those who are in sorrow, pain, or need, around us, we look for those who are divided from one another, those who are foreign, those who are fearful and suspicious of one another, and we say, 'The service we want to bring to you is to help you to be together, to help you to be friends again, to help you to be one family.'
Yesterday I had the great privilege in Popondetta of dedicating a new hospital building and a new college for the training of teachers. And I thought how great a thing it is that God has given the Church here in Papua New Guinea so much desire to serve the people around. And when the Church offers its help, it offers it in hospitals and in schools. The Church is saying, 'We want to make you one family. We don't want you to be forgotten or shut out because you are ill or because you are poor. We will bring you into the family. We don't want you to be shut out and forgotten because you have no education. We will help to teach you what you need to be a full grown member of this society and this nation.' The Church serves by seeking to bring people into a true family. And wherever the Church itself is divided or quarrelling, it is not really doing the work of the Church. A Church that is quarrelling is a Church that cannot serve as Jesus wants it to serve. But when the Church is bringing peace, bringing people into one family, the Church is truly acting like Jesus – we have broken down the walls that divide us, and made one family of all of us.
So that's one thing to remember today. We are called to serve and always be ready to serve, to serve Jesus in one another, and we serve Jesus by serving in the way that Jesus serves us – breaking down difference, bringing people into a family of love, in our own neighbourhood, in our own Province, in our nation, in the whole world. We Christians are here to bring that unique service to our country and to our world.
But there is one more thing that we need to remember in all of this, and it's the thing we remember every time we come here to the Mass, every time we come to Holy Communion. Remember the words Jesus speaks in that Gospel reading. He says, 'If you, my friends, my followers, if you are ready for me, then when I come, you will sit down with me and I will serve your meal. I will bring your food to the table. I will kneel down in front of you, and give you you food and drink.' A wonderful picture, and of course it's a picture we find in St John's Gospel, when Jesus kneels down to wash the feet of his friends. When we come here to Mass, we see Jesus, our Lord, our Master, our Almighty God, Jesus the one who changed the whole world, Jesus in whose hands are all things. We see him setting the table for us and bringing us our food and drink. Jesus sets out on that altar the bread and the wine in which his life lives. He gives it to us, because he knows that only if we eat and drink his life, his body of love, will we have the strength day by day, week by week, to go on serving in the way that he serves. When we take the bread and the wine of Holy Communion, we must think of Jesus kneeling down before us, holding up the food and drink to us, and saying to us, 'Eat and drink and this will give you the strength to be like me.' That is why we must keep on coming to Holy Communion so that Jesus can give us that strength, that food. If we keep coming to Holy Communion together, in fellowship and love, then the strength of his life will be in us, and we will be able to go out and go on bringing peace to the world, bringing people into that one family, which is the Body of Christ, the fellowship, the friendship of all believing people here in Papua New Guinea, with us in Britain, with many, many people in Asia, in Africa, in America. One family because all of you are being served by Jesus, sharing the same strength, and the same food of bread and wine, all of you serving in the name of Jesus, bringing peace, bringing hope, bringing people into one family.
So, dear brothers and sisters, thank you again for receiving me here as part of this family. Thank you and thank God for the family of God that has come to life here in Dogura, here where the first bringers of the Gospel were welcomed and served as if they were Christ, and where they in turn served Jesus with the Bread of Life. Thank you for being part of this great witness to the God who makes peace, the God who makes us one family. May God give you and me, and all our brothers and sisters throughout the world, the strength to go on seeking for that life and one family, at peace with one another, glad to see one another, grateful for one another, different from one another, and yet all of us receiving one food and drink from our one Lord, Jesus Christ our Saviour.
Amen.
© Rowan Williams 2012