Archbishop's speech at the Dedication and Opening of St Margaret's Hospital, Oro Bay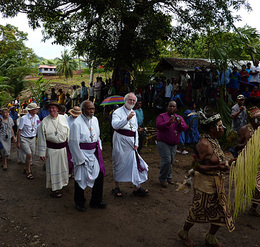 Monday 22nd October 2012
The Archbishop of Canterbury, Dr Rowan Williams, spoke at the Dedication and Opening of St Margaret's Hospital, Oro Bay, during his visit to Papua New Guinea, 18 to 25 October 2012.
Honourable Deputy Governor, Vice Minister, Deputy Health Secretary, Archbishop of the Anglican Church of Papua New Guinea. distinguished guests, brothers and sisters, friends,
Greetings in the name of Jesus Christ. It is a very great privilege for me to be here with you this morning to open this hospital. A privilege because I am able to express in person the great pride and satisfaction that we in the Anglican Church worldwide feel today for the work of the Anglican Church of Papua New Guinea. The Anglican Church here is not a particularly large or wealthy Church, but it is a Church which is completely devoted to the service and wellbeing of the people of this country. There are so many places across the world, the Congo, the Middle East, even in Pakistan, where our Church is very small, but has devoted itself to the people in health and education in ways that seek to raise the level of the entire population. I hope and pray that this will continue to be the case here. This institution of course is not beginning today. We are building on the foundation of a long history of service here, and just to remind you that the bonds of our Anglican family are indeed worldwide, I have a letter here from two friends in the United Kingdom. Two friends living in Canterbury in fact, and they are Sister Nancy and Sister Eileen. They worked at St Margaret's in its earlier form for many years. Sister Nancy was at the opening of the new hospital on its present site in 1967. Both of them say how much they would love to be here, but they are prevented by various reasons, and they send this message to you all:
'We, Sister Nancy and Sister Eileen, who worked at St Margaret's for many years between 1963 and 1985, and as medical co-ordinators for the Anglican Church of Papua New Guinea from 1985 to 1994, send our greetings with love and prayers to the staff of St Margaret's and the whole community on the dedication of the new upgraded hospital. We have very happy memories of our time at St Margaret's and the surrounding area, and we remember you often in our prayers. May God bless you all.'
It is always good to be able to bring personal messages of that kind on an occasion such as this. Personal messages because healthcare is about persons. It is not about solving medical problems. It is about care for real persons made in the image of God, made with dignity and capacity that needs to be released. The tragedy of sickness is that it takes away people's capacity fully to act in their society. When we look back, we think of lost potential, we think of lives lost in early childhood because of the lack of effective healthcare. We think particularly of the gifts of women that have so often been frustrated or lost because of the lack of adequate healthcare. And the commitment of a universal health system, including the needs of children and the needs of women, is the commitment to developing the fullest possible potential of every person in this community and in this country. A personal commitment, and a personal vision for persons made in the image of God to have their dignity valued and honoured. That is a commitment that this hospital stands for. That is the commitment, as we have heard, that the Government stands for. That is the commitment that the Church lives by. And we have been told already this morning that means also a commitment from the whole community to help to make this work. A commitment in the whole community to honour and respect the work that is done here. And perhaps too a commitment to say to our children and our young people, 'Look, there is work to be done in healthcare. It is a noble calling - think about it for yourselves, think about setting work for a future generation as doctors and nurses yourselves, as volunteers looking after the health of your whole community'. Because, if the whole community makes this its work, the whole community will grow in that dignity, that personal honour that I've spoken about.
It gives me real pleasure to hear the words that have been spoken on behalf of the Government in relation to the partnership it is undertaking with the Church. In the United Kingdom, we have been working hard over the last ten years to persuade our own Government to think about its aid and development work in fuller partnership with the Churches. We encourage our Government to direct some of its aid to partnerships between government and churches elsewhere in the world. It would be very good to be able to go back to London and say to our own Government, 'I can tell you about a place where partnership between Church and the Government is working'. The problems of health and education that face this country and so many countries throughout the world are much too big to be solved by government alone, by local communities alone, or by churches alone, but together with a shared a vision of what God makes possible for us, with a shared vision of the preciousness and dignity of each person, we can meet those challenges and I believe by God's grace we shall.
So, in dedicating this wonderful renewed hospital this morning, I have in mind and I have in my prayers the future of this Province and this area, conscious of the new developments that will be taking place, and conscious that this is a growing, maturing community, and I believe very strongly that this hospital can be at the very heart of that growth and that maturity. And so I wish you every blessing and every success in the future of this community and this country, a future where the Millennium Development Goals are real challenges to be met and to be treasured in the years ahead. I believe that the will is here to make those things real. And may God give you the power to make them a fact, for the good and the wellbeing and the dignity for all those who share life in this wonderful country.
Thank you, and God bless you.
© Rowan Williams 2012