New 'Lambeth Giving Fund' launched by Archbishop of Canterbury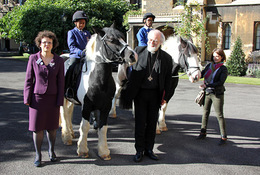 Thursday 4th October 2012
The Archbishop of Canterbury, Dr Rowan Williams, today launched the 'Lambeth Giving Fund' - a new fundraising scheme to provide much-needed help to some of the London Borough's inspiring local charities and community projects.
The Fund will encourage local businesses and residents to support local charities that are making a difference in their own area. Six local charities in Lambeth have already been identified as future recipients from the Fund, their work supports young people at risk, improves the quality of life of the borough's older residents, and supports people with mental health difficulties. The six charities are:
The Ebony Horse Club in Brixton - helps disadvantaged young people through riding lessons
Stockwell Good Neighbours - a club which provides a vital meeting place for older people
Mosaic Clubhouse - gives people with severe mental ill health vital work skills
Your Story - teaches academic and vocational skills to small groups of young people
Acre Lane Hostel - provides a home and support for 35 adults with mental health problems
Basaira Elderly Centre - provides healthy lunches to older people in the local community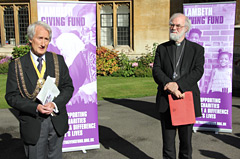 In his speech formally launching the Fund, Dr Rowan Williams said "The three focal points of the charities that are involved here are absolutely crucial in our life in this city and in this neighbourhood at the moment. They're about dealing with young people's aspirations, they're about challenging the stigmatising and isolating of people with mental health challenges, and they're about keeping older citizens fully integrated into the community and securing a real quality of life for them. Thesethings are so vital for a good working society at large, and a good working neighbourhood."
"I'm very pleased indeed that Lambeth Palace has been able to open its doors this morning, to welcome you here and to assure you of our prayer and wholehearted support for what you're doing in the wider community."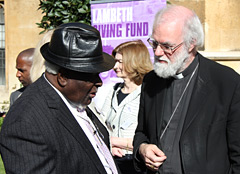 The Mayor of Lambeth, Clive Bennett and Chief Executive Derrick Anderson were also present at the launch, as were the three Councillors who founded the initiative, Sally Prentice, Peter Truesdale and Julia Memery.
Cllr Sally Prentice descibed how the groups selected to receive support are making a significant difference to the life of Lambeth residents and Mayor Clive Bennett spoke of his delight at being able to tell the good news that there is within the Borough and to describe the work that is already going on to support vulnerable people in Lambeth and make valuable improvements to the local Lambeth community.
Horses and volunteers from the Ebony Horse Club, one of the local charities, were present at the event with two of the local schoolchildren who benefit from the riding lessons they offer. The charity offers young people an opportunity to learn to control their own behaviour, work with the other riders, and take responsibility for their actions. Staff double up as youth workers and help young people through any personal issues that they might face.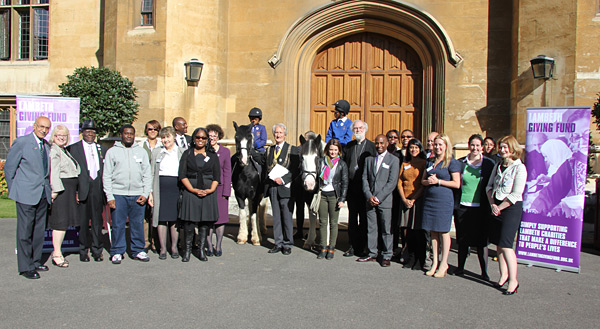 Sally Prentice, Councillor for Ferndale Ward commented: "The Archbishop of Canterbury's support for the launch of the Lambeth Giving Fund is very special and hugely appreciated by everyone involved. I hope that many Lambeth residents will feel inspired to make a contribution to their community by donating to the Lambeth Giving Fund on a regular basis."
People who give to the fund will be directly supporting charities that provide vital help to people living in Lambeth.
For further information on Lambeth Giving Fund, please visit http://www.lambethgivingfund.org.uk
To view high quality versions of the images on this page, along with others from the launch event, please click here