Archbishop sends greetings on the occasion of Rosh Hashanah 2012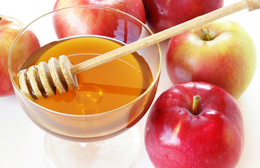 Friday 14th September 2012
The Archbishop of Canterbury, Dr Rowan Williams, has sent a greeting to Jewish communities on the occasion of Rosh Hashanah, marking the start of the Jewish New Year.
In his final Rosh Hashanah message before leaving the position of Archbishop of Canterbury at the end of this year, Dr Williams reflects on the relationship between Christian and Jewish communities over the past ten years - recalling events and encounters which brought people together to enrich dialogue.
The Archbishop's message follows in full.
To Jewish friends and colleagues on the occasion of Rosh Hashanah 2012
As Rosh Hashanah and the solemnities of the High Holy Days through to the Day of Atonement come around again, I am happy to send my warm greetings to Jewish colleagues and communities here and around the world and to join with you in prayers for the year ahead.
As many of you will know, these are the last Rosh Hashanah greetings that I will be sending to you before I leave the position of Archbishop of Canterbury to take up a new role at the University of Cambridge. Looking back over the last ten or so years, I am aware that there have at times been great challenges to the good relationship that we so value between our communities. Nevertheless, important steps have also been taken to strengthen the ties that hold us both on the level of warm personal friendships and also in terms of the structures that we have built together. One of the memories that will always be with me is of the visit with Lord Sacks and other faith leaders to Auschwitz in 2008. I want to pay tribute to all those who have put so much love and effort into building and nuturing relationships at this level.
Earlier this year, following a pilgrimage to the Holy Land with colleagues and friends, it was a joy once again to meet in Jerusalem with the Chief Rabbis of Israel, and to reflect with them on the way that our formal dialogue has grown since its inception in 2003. Within the context of that dialogue, the Anglican Jewish Commission held its fourth meeting this summer in Oxford, with a useful discussion of religion and democracy and an opportunity to share honestly about the tensions between our communities that have arisen around the recent General Synod Private Members Motion.
On its 70th anniversary this year, it has been good to celebrate with the Council for Christians and Jews the rich resource that CCJ represents for us in bringing people from our communities together, especially at a local level, for ongoing dialogue, study and sharing. As part of these anniversary celebrations, Manchester became the host for another excellent conference of the International Council for Christians and Jews. Through these and in many other contexts, our relationships have the opportunity to grow and deepen.
There is a poem by Paul Celan that begins:-
'Count up the almonds,
Count what was bitter
and kept you waking,
count me in too.'
This poem is about memory and relationships; it is about the exchanges and events that form us and bring us to the point that we, to paraphrase a later verse, 'enter into the name that is ours'. Looking back over the last ten years, there have been many events and encounters that could be counted as such – whether you believe that almonds are bitter or sweet: meetings sparked by the on-going trauma of the Land we call Holy, vexed debates about proper responses to the grave injustices in our world's economy, about the place of faith in our shared society and theological issues of the Divine nature and how it might be known. Although there is a lot to take into account, there is also, in Celan's poem, a sense of asking to be with someone. He ends with a repeated request to be numbered, to be counted by someone or with them. This longing for community is for Celan a Jewish longing, based on the rod of Aaron which flowered almonds. But it is a longing that I as a Christian can feel and share, and which is part of the building of every synagogue and every church.
How can we ensure that this sense of community is something that does not divide us from each other; but allows us to meet each other in both Church and Synagogue? Celan's poetry is a crossing-place; both Christians and Jews can hear in him an echo of their hymns, their services and also in his poems that directly reflect from his experience of the Holocaust a truthful account of human evil. Moving on from my time as Archbishop, I wish to ask you to remember me in your prayers. 'Count me' as Celan says in his poem; and I will certainly count the many events we have held together as Christians and Jews.
May God bless us and make us a blessing to each other and to our world.