Churches Together in England on the Diamond Jubilee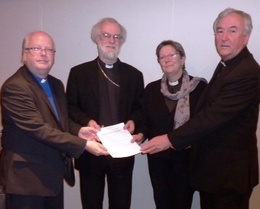 Thursday 31st May 2012
The Presidents of Churches Together in England (CTE) have acknowledged The Queen's Diamond Jubilee with the following statement:
'We join the nation in its rejoicing at Her Majesty The Queen's Diamond Jubilee. As we celebrate, we give thanks to God that her personal commitment to her role as monarch, and her service to the people of the United Kingdom, are grounded in a deep faith in Jesus Christ which is an inspiration to countless citizens of nation and Commonwealth. Her understanding of the wholeness and harmony of the nation is a crucial factor in strengthening our commitment to one another.
There can be no better way for the Christian Churches to celebrate the Jubilee than to take the opportunity to dedicate themselves anew to the service of God, and to seek the common good through love for their neighbours near and far.
We acknowledge gratefully Her Majesty's faith and her dedication to service, and assure her of the prayers and good wishes of her fellow Christians for the years of her reign yet to come. We pray that all may be inspired by Her Majesty's service: that together we may create a nation where all know they have the dignity and value of the children of God.'
---
The Presidents of Churches Together in England are:
The Most Revd and Rt Hon Dr Rowan Williams, Archbishop of Canterbury
The Most Revd Vincent Nichols, Archbishop of Westminster
The Revd Michael Heaney, Moderator of the Free Churches Group
The Rt Revd Jana Jeruma-Grinberga of the Lutheran Church in Great Britain.
HE Archbishop Gregorios of Thyateira and Great Britain
For more information about Churches Together in England, including Jubilee worship resources and a special Grace to be used at the Big Lunch, see the CTE website.