Cathedral Conversations - Archbishop Rowan and John Gray on Belief and Belonging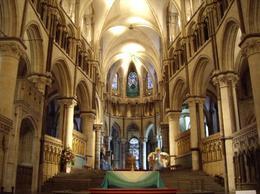 Friday 6th April 2012
In a programme broadcast on BBC Radio 4 on Good Friday, Archbishop Rowan Williams talks with philosopher John Gray in Canterbury Cathedral about the meaning and importance of this ancient building.
The Radio 4 series Cathedral Conversations was part of the BBC's wider project The People's Passion, looking at modern life in cathedrals across the land.
Running throughout Holy Week 2012, The People's Passion encompassed specially commissioned choral music, five Afternoon Dramas set in a fictional cathedral, and five documentaries recorded in St Paul's, Wells, Salisbury, Durham and Canterbury Cathedrals.
In this documentary, Belief and Belonging, philosopher John Gray and Archbishop Rowan Williams visit Canterbury to discuss the role and place of the cathedral in modern Britain, and what is it about this sacred space that has the capacity to appeal to such a wide range of people.
Listen to the programme here [13Mb, 14 mins]