Archbishop's Cadbury Lecture: Idols, Images and Icons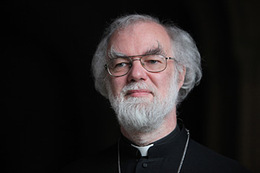 Friday 16th March 2012
Dr Rowan Williams gave the closing lecture of the Cadbury Lectures series 2012 at the Barber Institute of Fine Arts, Birmingham University, on Friday 16th March.
The role of images in contemporary society was explored during the University of Birmingham's annual Cadbury Lecture series, 'Seeing and believing in modern Christianity', which began with an art installation on one of the University's buildings and concluded with a final lecture delivered by the Archbishop of Canterbury, 'Idols, Images and Icons'.
Originating from an endowment by the Cadbury family to the University of Birmingham for an annual series of lectures open to the public on the history, theology and culture of Christianity, the Edward Cadbury lectures began in 1946 with the historian Arnold Toynbee and a succession of eminent scholars from around the world have contributed annually ever since.
The Archbishop's lecture can be viewed below: