Motion for an Humble Address on the occasion of Her Majesty The Queen's Diamond Jubilee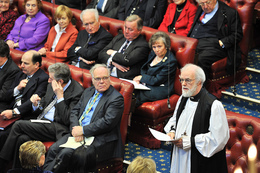 The Archbishop in the House of Lords. Image: Catherine Bebbington/Parliamentary Copyright
Thursday 15th March 2012
The Archbishop of Canterbury, Dr Rowan Williams, delivered the 'Motion for an Humble Address on the occasion of Her Majesty The Queen's Diamond Jubilee' in the House of Lords.
The full transcript is below:
My Lords, we often hear questions these days as to what gives this nation its identity. We rightly point to our history, our language and, not least, our long and deep commitment to the rule of law. But as we become more visibly diverse, as we take on board more dimensions of our history, more languages spoken in our schools, more complex discussions of equality before the law, one feature of our national life remains centrally significant. We treasure the fact that, above the shrill debates of our public life, we have in Her Majesty the Queen a personal focus for the loyalty and commitment we know we must feel towards each other as fellow citizens.
Sometimes loyalty to a nation can be a blind prejudice of race; sometimes it can be a dry and rather distant habit of reliance on the rights and privileges that the law guarantees for us. But Her Majesty the Queen has reminded us that it may also be grounded in something like a feeling of plain friendship and relationship within the national community, a feeling that is generated by the example, at the heart of our society, of someone who by her attentive and sympathetic presence in so many diverse settings, here and abroad, creates that sense of friendship. We sometimes joke about how many people appear to have dreams about meeting the Queen. But it is not simply a joke. We imagine ourselves in the neighbourhood of the monarch because we have a deeply ingrained sense of belonging with her as a neighbour, as someone who helps to keep alive the hope that the nation itself might be a neighbourhood.
So in your Lordships' House, in the judiciary, in the Armed Forces, in the Church of England, and in many other contexts, we promise our allegiance to a person. In so doing we recognise all that Her Majesty has done and continues to do in personalising our loyalty and recalling us to the need constantly to work for that neighbourliness, that directness of relation to each other, that is the lifeblood of a genuinely united society, uniting and knitting together the hearts of this people, as our prayer reminds us daily. A person-and one whose personality plays such a significant role in what she has achieved; a personality warm, shrewd, witty and calm; a personality also deeply committed to the faith of her Church, shaped by a deep and undemonstrative devotion, which she has increasingly come to share in her public utterances and which was wonderfully in evidence in the meeting with faith leaders which we recently had the honour of hosting at Lambeth Palace.
We give thanks to God for this unique ministry over six decades, praying that Her Majesty will long be spared to go on drawing us into this spirit of neighbourly attention and support for one another that makes us still, for all the challenges we face, a lively and a hospitable society.