Archbishop gives evidence to Joint Committee on House of Lords Reform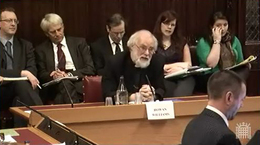 Monday 28th November 2011
The Archbishop of Canterbury gave evidence in person to the Parliamentary Joint Committee on the Government's Draft Bill on House of Lords Reform.
Watch a recording of this Committee Meeting at parliamentlive.tv or listen to an audio recording of the Archbishop's opening statement [13Mb; 7 mins].
An uncorrected written transcript is available at www.parliament.uk. The Archbishop's opening statement is reproduced below, and attached in pdf format along with questions and answers.
Please note that this is an uncorrected transcript and that neither witnesses nor Members have had the opportunity to correct the record. The transcript is not yet an approved formal record of these proceedings.
---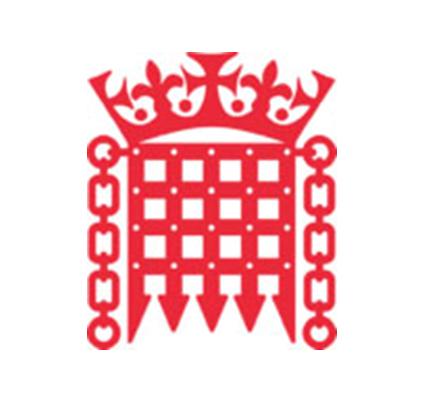 MINUTES OF EVIDENCE
TAKEN BEFORE
THE JOINT COMMITTEE ON THE DRAFT HOUSE OF LORDS REFORM BILL
DRAFT HOUSE OF LORDS REFORM BILL
MONDAY 28 NOVEMBER 2011
Evidence heard in Public
The Chairman: Archbishop, thank you very much for coming. We are grateful. I think you know what the Committee is about and the issues that we are faced with. Would you like to make an opening statement before we launch the questions at you?
The Archbishop of Canterbury: Thank you, Lord Chairman. I am very grateful to the Committee for this opportunity to make some introductory remarks. The Committee will have had copies of the submission that the Archbishop of York and I sent, which expresses the views of the Bishops. The Committee will know that we welcome the draft Bill as an opportunity to debate reform of the House of Lords. Our starting point has been to ask what will best serve Parliament and the nation. In a bicameral legislature, what kind of second Chamber do we actually need, which provides a restrained but effective check and balance to the House of Commons? We agree that some reform of the Lords is long overdue, not least in solving the problem of an ever increasing membership and the pressure on seats—we on the Bishops' Benches have noted that particularly in the last year or so. We also see a compelling case for retaining a second Chamber distinctive from the House of Commons in composition and powers. Our view is that a second Chamber should be composed so as to ensure the just use of power entrusted to the Government of the day, one which commands a majority in the House of Commons; so as to ensure true and impartial accountability, scrutinising and revising government legislation with a degree of independence not possible in the House of Commons; and so as to represent the diversity of what I and others have called non-partisan civil society and intellectual life.
Our concern is that the nature of the second Chamber should be shaped by considerations about its purpose—considerations of that sort. We believe that the proposal in the draft Bill to have a much smaller second Chamber which is entirely or almost entirely elected would bring about a fundamental change, producing a second House which is only doubtfully likely to secure those objectives. We believe that it is important that all Members of the second Chamber should have a full understanding of the diversity of civil society. That is where we believe that the Bishops' contribution comes in.Bishops, of course, are not life Peers. They are Peers of Parliament. They sit in the House until they retire as diocesan Bishops. They serve only when they are in harness in the diocese. They bring to bear their experience of all aspects of civil society in their own diocesan area. It has been said that they are in effect the only Members of the upper House who have something like constituencies. I draw the Committee's attention to the appointments procedure for Bishops—it is not always widely understood. It involves elected members of our Synod and extensive consultation with civil society in the vacant diocese. It approaches and draws opinions from a large number of people in, for example, civil administration, education and a number of other community locations. The appointments procedure takes for granted that a Bishop has a very visible role in civil society.
One of the things that we hear most often in the Crown Nominations Commission from non-church representatives from the diocese who have been consulted is that they want someone who will speak for the city, speak for the county and speak for the region. That is not just a matter of empty words, as I think is shown by the number of diocesan Bishops who have served and continue to serve in regional partnerships, often in the chair. The rooted presence of the Church of England in every community of England and the committed membership of nearly 1 million regular weekly attendees gives Bishops personal access to a very wide spread of civil organisation and experience—perhaps wider than is enjoyed by many comparable public figures. Their personal contribution to the work of the House of Lords therefore draws not on partisan policy but on that direct experience, as well as engagement generally with questions of ethics, morality and faith. Bishops know every church in their diocese. They know the communities they serve—and they serve far more people than church attendance in a narrow sense represents. They take part in civil ceremonies. They visit and are known by hospitals, care homes, the Armed Forces, factories, prisons, universities and community projects. In prisons, they have a statutory right of visitation. Hundreds of primary and secondary schools are Church of England schools. In other words, diocesan Bishops belong in a web of relationships in the communities that they serve and have direct lines of communication into those societies at every level. As I noted, people look to the Church of England to provide focus and a voice for the community at times of shared mourning or celebration.
In many cities, the Church of England acts as the convener for bringing representatives of different faiths together. That is also true at the national level where, in only the last seven days, I have had experience of convening three gatherings of faith leaders on a national basis. I think that that would be borne out by analysis of the church's response to last summer's urban disturbances. All this gives the established church a capacity to express common values in a way that no other organisation is placed to do. The Chief Rabbi has said that if the established church is removed from the public square, common values become more difficult to articulate. It is also fair to say that some Members of both Houses of Parliament look to the Bishops to offer a faith perspective, which they may sometimes hesitate to volunteer in their own right.
I raise these points not by way of special pleading for the Bishops in the second Chamber but to point out some of what might be lost if change is brought about in a simply formulaic way and if we have not addressed what we want the House of Lords to do before considering what composition and basis of appointment best deliver that function. I have not yet touched at length on the particular constitutional relationships of Bishops to the Crown in England, or indeed on the status of three of the named Bishops in the draft Bill as ex officio privy counsellors. That might need further discussion. In short, I agree that the House of Lords needs reform. It strikes me personally—this is a personal rather than a Church of England view—that the package of measures proposed in Lord Steel's Bill provide a very effective basis for a revising Chamber. Beyond that, Lord Chairman, I am happy to invite the Committee's questions.
---