Archbishop's message for Papal Visit Anniversary
Thursday 15th September 2011
A message from the Archbishop of Canterbury, Dr Rowan Williams, given for the Papal Visit Anniversary Mass at Westminster Cathedral on 18th September. The Archbishop was represented at the Mass by the Right Revd Dr Alan Smith, Bishop of St Albans.
Dear Brothers and Sisters, Dear Friends: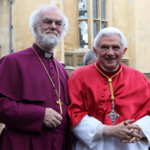 Twelve months on, we look back on the visit of Pope Benedict with abiding gratitude. The visit was a great gift for all the Christian communities of the United Kingdom, affirming their role in society and strengthening their resolve to serve the communities of this country. The Pope's memorable speech in Westminster Hall and many more of his public sermons and addresses brought a remarkable and creative theological mind to bear on the issues of the day, and proved impossible for even the most dedicated secularist to ignore or dismiss.
But perhaps most importantly of all, those days last September visibly reminded the public at large that Christian discipleship is not the concern of some tiny ageing minority but a reality enthusiastically embraced by millions of all ages and races. Pope Benedict showed us all something of what the particular vocation of the See of Rome means in practice – a witness to the universal scope of the gospel.
We who belong to other Christian families gladly acknowledge the importance of this witness and join with our Roman Catholic brothers and sisters in thanking God for the inspiration and challenge of Pope Benedict's visit, in the hope that we can go on working together for the sake of Christ's good news here in the United Kingdom.
+Rowan Cantuar: