Building Bridges Christian-Muslim Seminar on Prayer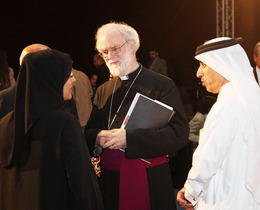 Monday 16th May 2011
The Archbishop of Canterbury, Dr Rowan Williams, chaired the 10th Annual Building Bridges Seminar in Doha, Qatar from May 16-19 2011.
Since 2002, the Archbishop of Canterbury has chaired an annual Building Bridges seminar, which brings together leading Muslim and Christian scholars from around the world to explore issues at the heart of the two traditions.
The 10th Annual Building Bridges Seminar was entitled 'Christian and Muslim Perspectives on Prayer'. As in previous Building Bridges seminars, a number of texts from the Christian and Islamic traditions were used as the basis for discussion in a programme that included public lectures and private sessions.
This year's event was hosted by the Georgetown University School of Foreign Service in Qatar and was also supported generously by His Highness the Amir of the State of Qatar. Previous seminars have been held in Washington, Istanbul, Rome, Sarajevo and Singapore.
---
The Building Bridges website
The Building Bridges website, hosted by the Berkley Center for Religion, Peace and World Affairs at Georgetown University, has full information on the 2011 seminar and earlier seminars, including videos of seminar speeches, the seminar sourcebook in pdf format, biographical details of participants, key Building Bridges publications, and other resources.
---
2011 Seminar Programme
Monday 16th May: Seminar launch
The seminar was launched on the evening of Monday 16 May, with Professor Judith Tucker hosting proceedings on behalf of Georgetown. Speeches were given by Professor Aisha Youssef al-Mannai, Dean of the College of Sharia and Islamic Studies, Qatar University, and by Bishop Michael Lewis of the Anglican Diocese of Cyprus and the Gulf, representing the local churches. Dr Ibrahim al-Na'imi made a presentation on the Doha International Center for Interfaith Dialogue. Finally, the Archbishop of Canterbury, Dr Rowan Williams paid tribute to the key role played by Qatar in encouraging dialogue, notably through the work of DICID. Introducing this seminar's theme, he said that to pray is to be in touch with our deepest nature and our destiny; by reflecting on prayer we reflect on what it means to be related to the Creator. The theme of prayer is thus linked to all the other themes explored by Building Bridges.
View the Archbishop's opening remarks in the video below.
---
Tuesday 17th May: Seminar opening - public lectures
On Tuesday 17 May public lectures were given by seminar participants in three sessions, focusing on "Theology of Prayer", "Prayer in Practice", and "Mutual Perceptions". In each case two lectures were given, one by a Christian and one by a Muslim
9:00am - 10:45am
"Theology of Prayer"
Michael Plekon, Baruch College of the City University of New York
Reza Shah-Kazemi, Institute of Ismaili Studies, London
11:15am - 1:00pm
"Prayer in Practice"
Dheen Mohamed, College of Sharia and Islamic Studies, Qatar University
Philip Sheldrake, Westcott House, Cambridge Theological Federation
2:30pm - 4:15pm
"Mutual Perceptions"
Caner K Dagli, College of the Holy Cross
Daniel Madigan SJ, Georgetown University
---
Wednesday 18th and Thursday 19th May
The second and third days of the seminar consisted of private sessions in which participants heard plenary addresses and discussed selected Christian and Islamic texts in detail in small groups.
---
Building Bridges publications
Georgetown University Press has in recent years published a number of volumes on past Building Bridges seminars, with more forthcoming. See the Building Bridges website for further details.
---