Archbishop meets with Secretary General of the Organisation of the Islamic Conference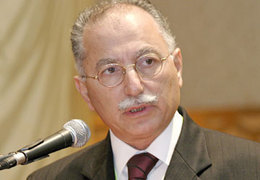 Professor Ekemeleddin Ihsanoglu, Secretary General of the Organisation of the Islamic Conference
Tuesday 14th June 2011
The Archbishop of Canterbury, Dr Rowan Williams, met this morning with the Secretary General of the Organisation of the Islamic Conference, Professor Ekemeleddin Ihsanoglu, at Lambeth Palace. Baroness Warsi, Minister without Portfolio in the Cabinet Office, joined the meeting.
Though wide-ranging, their discussion focused in particular on the importance of continuing to build understanding, and personal and community relationships, between Christians and Muslims (and members of other faiths), and particularly among younger members of the faith communities.

In the meeting, it was said that while both traditions had historically been committed to the path of peaceful co-existence, some modern revisionist and extremist tendencies had attempted to replace this with a path of confrontation and violence - this had to be resisted.
It was said that the most positive way forward was to emphasise the duty of every faith community to work for the protection of every other. Religious freedom, and freedom from religious persecution - especially the persecution of minorities - were essential hallmarks of responsible government. For their part, religious leaders had a duty to speak out and stand side by side against the unjust persecution of those of other faiths.