Christian Muslim Youth Forum on Trade Justice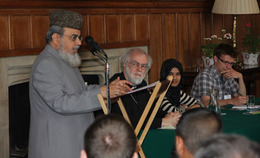 Wednesday 8th June 2011
The Archbishop of Canterbury, Dr Rowan Williams, today hosted a Christian Muslim Youth Forum on trade justice.
The meeting of 30 young Christians and Muslims was sponsored by the Christian Muslim Forum and MADE in Europe.
Speakers included the Archbishop, Moulana Shahid Raza (the Muslim Patron of the Christian Muslim Forum), Harriet Lamb (Executive Director of Fairtrade), Zeenat Azmi and Samuel Slatcher. Click on the right to download the Archbishop's speech [8Mb]
A statement was issued which can be read below.
Further details of the Forum are available at the MADE in Europe website.
---
Christian-Muslim Youth Statement on Trade Justice
Issued on 8th June 2011
As young people of the Christian and Islamic faiths, we call upon our government to acknowledge our voice and attend to the crucial issue of trade injustice which is keeping millions of people around the world in poverty. This is a global problem and the UK has a responsibility to ensure that it takes the lead in ending the EU's distorting cotton subsidies that prevent African farmers from trading fairly.
As faith communities, we are committed to upholding the principles of justice, fairness and honouring the dignity of every human being. In Christianity, Jesus said, "love thy neighbour as thyself". In Islam there is the saying of the Prophet Muhammad, "none of you truly believes until he wishes for his brother what he wishes himself" – peace and blessings be upon them both. Tackling trade injustice is a poverty issue, it is a human rights issue, and it inherently concerns the dignity of our neighbours, our brothers and sisters around the world. Not only do fair trade rules offer opportunities for improving education, health provision, and other social amenities, tackling unjust trade in turn addresses social, racial, and gender inequality.
It has come to our attention that cotton farmers in West Africa have been increasingly side-lined as EU and US subsidies privilege European and North American cotton producers. This is despite the natural competitive advantage West Africa should be thriving off, given the abundance of cotton production in countries such as Benin, Burkina Faso, Chad and Mali. These unfair trade rules are directly affecting the livelihoods of millions of people in our world. It is unjustifiable for the US and the EU to push for developing countries to remove government support to agriculture while they subsidise their own famers at home, distorting world price through over-production.
Now is the time to act. We were pleased to hear that earlier this year you reaffirmed the government's commitment to ensuring the elimination of unfair EU trade subsidies. We now ask you to continue to use your influence, and political integrity, in the upcoming CAP policy reviews in 2013 in support of the world's poorest cotton farmers in West Africa by:
building a coalition for support for eliminating EU coupled cotton subsidies among European member states
briefing and supporting UK MEPs to vote in favour of de-coupling cotton subsidies given CAP 2020 will be agreed by co-decision
making direct representations to the EU Agriculture Commissioner on the impact of cotton subsidies on West African cotton farmers
asking your colleagues in the Foreign & Commonwealth Office to make representations to the US government to encourage the US to drop its trade distorting cotton subsidies.
We ask you to acknowledge our voices – the voices of young people of two of the world's largest faiths – and hear our concerns about our future economic system. We cannot turn a blind eye to the plight of 10 million cotton farmers, who represent just a small proportion of people forced into poverty by global trade rules which favour the rich and powerful over the poor and marginalised. Every man and woman irrespective of their background deserves the opportunity to live a life free from poverty, and trade justice provides people with such an opportunity. We believe that farmers and traders in the developing world should be entitled to better prices, decent working conditions, local sustainability, and fair terms of trade.
---