Archbishops' Zimbabwe Appeal - September 2009 report
Tuesday 1st September 2009
Archbishops' Zimbabwe Appeal - Initial report on Lambeth Palace and USPG visit to Zimbabwe, September 2009
Archbishops' Zimbabwe Appeal
Initial report on Lambeth Palace and USPG visit to Zimbabwe, September 2009
---
Since the launch of the Archbishops' Appeal for Zimbabwe during Lent this year, the five Anglican dioceses in Zimbabwe have been implementing relief and development programmes in local communities across the country. This September representatives from Lambeth Palace and USPG (who are working in partnership with the Archbishops for this appeal) travelled to Zimbabwe to see the progress of this work.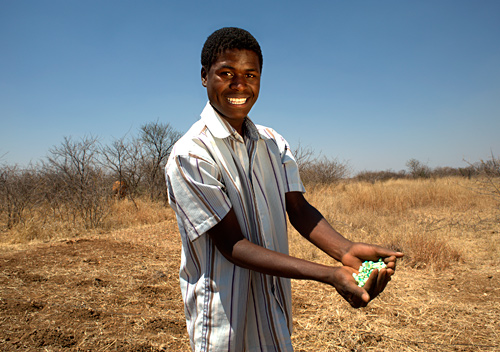 One of the most immediate problems in Zimbabwe is hunger. Hyper-inflation and acute shortages of basic supplies combined with a series of very poor harvests have led to serious food shortages and acute food insecurity in recent years. It is estimated that around 2.8 million people might need humanitarian assistance before the next harvest in April 2010 with the majority living in rural areas, where many farmers will begin to exhaust their own crops as early as October.
Through the Archbishops' Appeal the Church has been running supplementary feeding through its church run community schools. In addition to meeting the immediate problem of hunger in local communities, providing free school meals helps to keep children in school with enough energy to learn, as well as reducing the risk of teachers striking under the pressure of low wages.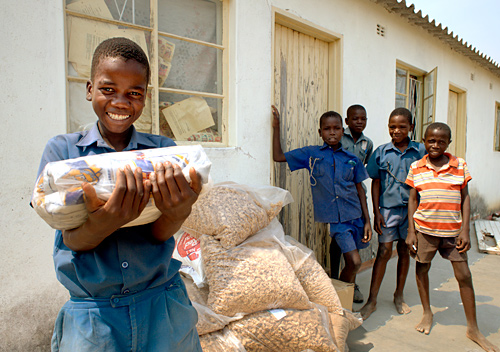 The Church is also working in partnership with an under-resourced prison service to provide supplementary feeding for prisoners. This partnership also provides opportunity to minister to the psychological and spiritual needs of prisoners and observe their health and sanitary conditions.
The majority of Zimbabweans still make their living through subsistence farming. In order to tackle the problem of hunger in the long term local communities need to be empowered to grow enough food for themselves again through farming inputs and training in more effective farming methods. In response to this the Anglican dioceses have been distributing seed to local households ready for the planting season this autumn. They have also been running a programme called Farming God's Way. The programme teaches new and highly successful conservation farming methods alongside biblical rationale for better stewardship of God's creation. By training Priests and Mothers' Union members in each diocese to be trainers in local communities, the Church is getting the message and skills of sustainable farming to the people that need it most.
National health services have collapsed in recent years, as medical professionals have left the country en masse and supplies of even the most basic medicines have been drastically depleted. The abandonment of the Zimbabwe dollar has left the majority of rural citizens with little or no access to the US dollar and unable to pay for even the overstretched services that are left. The Church is reaching out to local communities by providing basic medicines through its mission hospitals and clinics, as well as by partnering with local health authorities to reach the urban poor.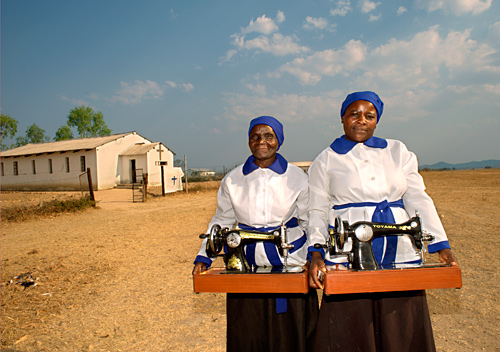 Through the multiple programmes being facilitated by the Archbishops' Appeal the Anglican dioceses of Zimbabwe are building stronger partnerships with local authorities, non-governmental organisations and other churches, thereby increasing their capacity and effectiveness to meet the immediate and long term needs of the people of Zimbabwe. Building on the church's long track record of providing social services to the community, programme officers from Lambeth Palace and USPG have been working alongside bishops and diocesan staff since 2007 to build up the skills needed for project implementation. Through a series of training workshops and inter-diocesan dialogue, (which have been supported by donations from a number of organisations, including Christian Aid), secure foundations have been laid for the effective implementation of projects under the Archbishops' Appeal.
In the words of Bishop Chad Gandiya, Bishop of Harare:
'We are called to minister to all of God's people and that means everybody. And so we have no option but to act. Not to react but actually to take a lead in guiding our communities, the nation, in ways that bring justice to all....The timing [of the Archbishops' Appeal] was actually excellent because this was at a time when food was very scarce and at a time when the government of national unity was only coming into being. With the challenges that they faced this went a long way towards helping and alleviating suffering amongst the people that the church ministered to.'
Over the coming months the film, interviews and photos from this visit will be turned into resources for the thousands of people who generously gave to the Archbishops' Appeal, and without whom none of this work would have been possible.