Archbishop's sermon at Stephen Lawrence memorial service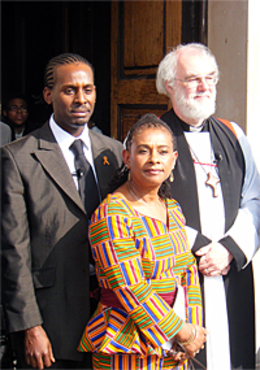 The Archbishop with Stuart Lawrence and Doreen Lawrence
Tuesday 22nd April 2008
The Archbishop of Canterbury's sermon at at a memorial service to mark the 15th anniversary of Stephen Lawrence's death. The service was held St Martin in the Fields, Trafalgar Square and the congregation included Stephen's family and friends.
A full transcript of the sermon follows:
In the name of the Father, and the Son and the Holy Spirit, Amen.
We have already been reminded this afternoon of the act of vandalism that occurred just after the opening of the Stephen Lawrence Centre: windows were broken - a sign perhaps that might speak to us of many things about which we need to think and pray this afternoon. Some things are breakable - not only windows but human lives. Human lives are fragile things; vulnerable to chance and violence, shattered by prejudice and rejection. And the event we are remembering this afternoon is of course an event where brutally and terribly that human fragility became very plain, and was felt deeply and crushingly by those who loved Stephen best. But those broken windows might also encourage us to think about another kind of fragility - the fragility of our picture of ourselves as a liberal, tolerant and settled society. We need to be reminded, and sometimes the reminder is very harsh, that our ideals and our achievements in this area are breakable too. As has been said already this afternoon, work remains to be done because so much is still so fragile in our understanding of one another, our welcoming of one another, our peace with one another. How like a brittle pane of glass that can sometimes seem! Even today we hear the voices and see the actions of some in our society, let alone worldwide. And how very easy it is, when we see this breakable quality in so much that we treasure to say, 'The answer is not to take any risks; the answer is to keep your head down, expect the worst and hope that it may pass you by. Put up the shutters and hope to lead your own life in some measure, some imitation of peace and security.'
But it is when we are afraid of risk in that way, when we are tempted to settle down with expecting the worst, that the Gospel we have just heard comes through, puncturing our fears and our illusions, breaking in to this particular context, breaking the glass to let the air in so that we are able to breathe deeply, and move out and take risks and make choices. In the Gospel reading that we heard a few minutes ago (Matt 5.1-12) Jesus did not lay out a system of morals. He said to his friends, 'Look here and here and here; look at lives like this, lives that make peace, lives that are characterised by compassion, lives capable of letting go for the sake of others, lives on fire with longing for justice. Look at those lives because that is where you will see God; that is blessedness – to be blessed is to be where God is. And in lives like that, there is God.' That's the first thing that the Gospel says to us; quite simply, look and believe. Those lives, those contexts that in the world's eyes seem to be places of failure, places of struggle, struggle for the sake of peace and mercy or justice, those are the places where God is to be seen.
But there's more; the words that echo like a drumbeat in that Gospel are the two very simple words 'They shall'. The poor in spirit, those who have nothing to hold onto but trust, they shall be satisfied. The humble, the gentle, they shall inherit. Those who hunger and thirst for justice, they shall find their nourishment. And what we are being invited to trust is what's contained in those two words. All around things maybe brittle but those two words, 'They shall' stand like granite in the middle of the landscape. They don't promise in any simple sense that everything is going to be alright tomorrow. They don't promise that you and I will be safe when we take risks. They simply say the whole direction and meaning of the universe lies with those who show mercy, who are hungry for justice, who are able to let go in trust, and who long to make peace out of a gentle spirit. That is the truth that is the rhythm of the universe, 'They shall'. When we make our choices - about how our lives are run, how our local societies are run, how our countries our run - those are the words we need to hear. Are we capable of making a choice for that vision that 'they shall'?
Stephen Lawrence's family have lived by those words, they have believed and they have acted on that basis: 'They shall'. They have treated those words as granite, as a rock on which to stand in all the terrible fragility, the brokenness, the suffering of the years that have gone by. Out of that suffering (as we have heard) has come hope, planning, care and vision. This afternoon they proclaim to all of us that same Gospel word, 'They shall', and they invite us, as Jesus Christ invites us, to set our lives upon that rock of trust. The trust that this is where reality is, this is where truth is. Not with violence, not with prejudice, not with rejection but with the lives of those who let themselves be broken for the sake of peace and the sake of justice, because that is where God is.
Not everyone in this Church this afternoon will share that Christian faith, yet everyone present here faces the same challenge. Can we make those choices that will lead us to stand on the rock when our ideals and hopes are disappointed, when our loves are bruised, and when the windows are broken and the wind is cold; can we still make the risky choices? Not the choice simply of jumping off from the top of the stairs in to the cushions, but the choice - deeply risky, deeply uncertain - of staking our lives on the fact that everything rests on justice and love. If we can make that choice in that vision with that confidence then we shall know what those words of Jesus mean: 'They shall inherit, they shall be satisfied, they shall with Stephen and all God's friends be called Children of God'. Amen.