Archbishop's sermon at St-Martin-in-the-Fields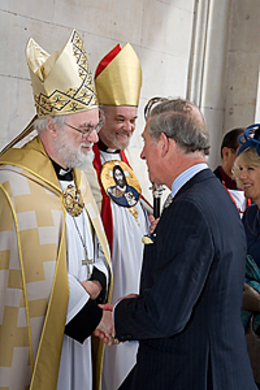 Archbishop with Bishop of London, Prince of Wales & Duchess of Cornwall
Monday 28th April 2008
The Archbishop of Canterbury's sermon at a special Service of Thanksgiving to celebrate the renewal of St Martin-in-the-Fields, Trafalgar Square, London.
A transcript of the Archbishop's sermon follows, or click link on the right to listen [13Mb]
As Jesus prepares to face his last days, his passion and death, the world comes knocking on the door in the shape of the Greeks who in our Gospel reading this afternoon (Jn 12.20—36) come declaring that they want to see him. At first reading, his reply to this is rather strange – he doesn't say yes or no; instead he begins to speak of how a grain of wheat in order to bear fruit must fall into the earth and die. It is as if Jesus is saying that the world isn't going to be able to see him unless he himself gives himself up, unless he passes into darkness, so that his life—broken open like the seed growing underground—can become the life of others; so that his light, apparently extinguished by darkness, can become light for others. The Greeks (the world at large) will see him fully and truly only when his life has kindled in others. And so his reply to the apparently innocent and simple question of the Greeks is, 'Wait and see – how life broken and buried shares itself, kindles life in others, then you will see me'. And so he goes into the fertile darkness of death and his life broken open comes out of that darkness to be the life of his friends and the life of the world; life and light in abundance.
The foundation of everything that Christians try to do is in that process. The life of faith is about being broken open so that life may happen, relating to Jesus not as a distant figure setting a good example but as someone whose life and fire is kindled in us, so that for the world to see us who believe and struggle is to see Jesus. And that claim is as bold, as unlikely and as embarrassing in the twenty-first century as it has ever been. Christians are Christians not because everything is clear, not because we know exactly what we ought to do, when and how, and because (as it is so often said) we have all the right answers to the questions that no one is asking. No: Christians are Christians because they sense that God's own life, broken, shared and buried has proved to be uncontainable. It has spread out, kindled and renewed lives the world over.
Many of you will have been to the Church of the Holy Sepulchre in Jerusalem, and perhaps you were disappointed, as many visitors are, by what an apparently appalling mess it is. When you expect a wonderful, radiant artistic celebration of the triumph of God's grace, what you find is a honeycomb, several levels of chapels, little caves and strange corners built around and into a great rock. The rock on which faith is founded is, it seems, a rock shot through with caves and hollow places: hollow places where life begins; caves that can't fail to be perceived as something like an analogy to the womb where life begins, a dark, hollow place where life kindles. And so, for those visitors to the Church of the Holy Sepulchre in Jerusalem who get past the first moments of puzzlement and disillusion, maybe it is possible to sense that building itself is a kind of image of what the Church itself is like. Beneath the surface there are dark hollow places, places where lives are broken open and growth is going on, places where newness begins.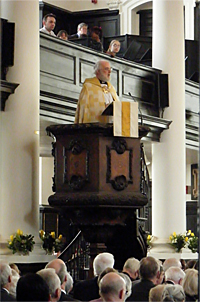 Now the renewed St Martin's is actually not very like the Church of the Holy Sepulchre; and yet, walking around a couple of weeks ago with the Vicar and others, walking around the amazing honeycomb of rooms and facilities, around, within and beneath this famous and glorious sanctuary, I was reminded of the Church of the Holy Sepulchre. The church that we see, this radiant and light-filled sanctuary whose wonderful restoration we celebrate today, rests upon that network of unseen places where lives break open and growth happens. Every church is like that when it is doing its job. Somewhere, behind what's visible, there is breaking and renewing. Broken lives that are brought to this church for healing, but also lives that are broken open by the contact with suffering – people's reluctance to be alongside others broken open by the sheer facts of human need; and in that brokenness growth beginning for everyone involved. And it is as all this life goes forward that Jesus is seen by the Greeks of our own day – the world at large, banging on the door and wanting to know what we are about.
It was quite common in years gone by for pulpits to have engraved within them the text, 'Sir, we would see Jesus,' (Jn 12.21) to remind the preacher of what his (and in those days it was his) business was. But the pulpit is not the primary place where that question is answered, where that need is met, because seeing Jesus is seeing how lives broken open—lives growing in darkness, love offered in secret and yet somehow flowering to light—are made possible by the great central act that our whole faith celebrates: the act of Jesus giving up his safety, giving up his heaven to enter into our hell, and to bring light and transformation there. Where that happens in our own day, where light comes in the places of dark and brokenness, there Jesus begins to happen, and there he is seen. Seen, not as a distant historical figure but seen as his body, as the company, the community of those kindled by his flame, here and now – in the light kindled from him and by him. In our thanksgiving today for what has been achieved here, we are giving thanks for all that has been seen of Jesus: seen in that honeycomb of womb-like caves around and beneath this place; seen in the work of loss and restoration, woundedness and healing that goes on all around.
In the days when St Martin's was gloriously beginning to reinvent itself in the second and third decades of the last century, a very great Anglo-Catholic priest, Father Basil Jellicoe, at that time incumbent at St Paul's Covent Garden, was challenged by some of his more narrow-minded High Church friends about why he would come to celebrate and preach in a parish church like this where the Blessed Sacrament was not reserved. Father Jellicoe said he had no problem at all in coming to preach in a church part of which was reserved for the service of Christ in the form of his poor. And that is only one very small image, one very small insight from the history of this parish reminding us what it is that surrounds this sanctuary and makes this sanctuary holy – Christ going into darkness, Christ's life broken open so that life maybe given to the broken.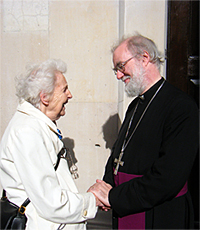 And that great reinvention of St Martin's in the last century was of course mostly the work of Dick Sheppard, surely one of the very greatest names of the Church of England in the twentieth century. If it's true, as the rabbinical scholars say, that in every generation there are 36 unknown righteous people who keep the wrath of God away from the world, I strongly suspect that Dick Sheppard was one of those who kept the wrath of God off the Church of England during the twentieth century! He was a man of deep flaws, deep feeling (often confused feeling); a man who didn't in the least know how to protect himself, to protect his 'space' as we like to say these days; a man who could make catastrophic mistakes in judgement and in relationships; a man in whom Jesus was seen as he was seen in very few in the whole of the century. He was a sentimental man and his writing and his preaching are often hard for a chillier and a more cynical twenty-first century to read. And yet what he himself said at his induction in November 1914 about his vision for this parish church says everything that any of us might want to say today, and a great deal more, about the vision that has animated this place and that by God's grace will go on animating it in its service for decades, please God even centuries to come.
And so I end simply by quoting what he said on that foggy November day in 1914 when he explained, as his biographer [R. Ellis Roberts] says, 'into what manner of church he had seen St Martin's transfigured' when he was away in the mud in Flanders in those weeks when he served (traumatically) as a chaplain in the trenches. This is what he said:
I stood on the west steps and saw what this church would be to the life of the people. They past me, into its warm inside, hundreds and hundreds of all sorts of people, going up to the temple of their Lord, with all their difficulties, trials and sorrows. I saw it full of people, dropping in at all hours of the day and night. It was never dark, it was lighted all night and all day, and often and often tired bits of humanity swept in. And I said to them as they passed: 'Where are you going?' And they said only one thing, 'This is our home. This is where we are going to learn of the love of Jesus Christ. This is the altar of our Lord where all our peace lies. This is St Martin's.' It was all reverent and full of love and they never pushed me behind a pillar because I was poor. And day by day they told me the dear Lord's Supper was there on his altar waiting to be given. They spoke to me two words only, one was the word 'home' and the other was 'love'.
He went on,
You remember how in the Gospel for today [Jn 6.1—15], which I always love, there was not enough to go round, and suddenly one of the disciples went to our Lord, almost apologetically and said: 'There is a small boy here with five loaves and two fishes' [Jn 6.9]. So small a gift as that!
You remember our Lord asked just for those small pieces of bread and fishes, and you remember that he took them and used them, and everyone had enough. That is the way with our small efforts, which seem to us so small. But if we offer just the little things we have in love to the Lord, he will use them, he will say, 'Make the crowd sit down'. [10]
He will take our gift.
Great gifts have been expended on the restoration of this church: gifts in material form, gifts in the shape of the energy and the vision of those who have steered the appeal; gifts in the shape of a pastoral leadership second to none. And still all those gifts are only a tiny drop in the ocean of what God is able to give when these things are offered to him freely so that Jesus may be seen: seen as the grain falls into the earth, as lives are broken open, as the contagion of new life, hope and love spreads. God grant that Dick Sheppard's vision will be the vision that sustains, enlarges and inspires the people of this place for years to come. God grant that Jesus will be seen here, hour by hour. Amen.
© Rowan Williams 2008
---
Note:
The church's website will help fill out the history and context of the Archbishop's address in this very significant central London parish church.
Discover more on the St Martin in the Fields' website.
More specifically, among the many aspects of Christian ministry at St Martin's, there is a long tradition of caring for homeless people and those at risk of homelessness. This work continues with the Connection at St Martin-in-the-Fields, formed in April 2003 from a merger between St Martin-in-the-Fields Social Care Unit (working with rough sleepers and other vulnerable homeless people) and the London Connection (which helped young homeless people).
The biography that the Archbishop refers to is R Elis Roberts: H R Sheppard: life and letters, 1942