Winner of £15,000 Theology Prize Announced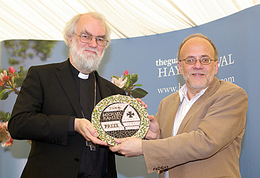 The Archbishop with Richard Bauckham © Keith Moseley
Thursday 28th May 2009
The Archbishop of Canterbury, Dr Rowan Williams, has awarded the 2009 Michael Ramsey prize to 'Jesus and the Eyewitnesses' by Richard Bauckham at the Guardian Hay festival today.
The winner, who will receive a prize of £15,000, was announced at a gala lunch in the presence of Archbishop Desmond Tutu.
"The Michael Ramsey Prize is intended for theological writing which, by freshness and originality, somehow changes the theological landscape, and also serves the needs of the Church; not by being safe or orthodox, or by reinforcing the Church's institutional life – but by giving people something with which to nourish themselves and to enrich their lived Christian experiences.
"Richard Bauckham in his book 'Jesus and the Eyewitnesses' had, in the words of one of the judges, 'Placed something of a bomb under a good deal of New Testament scholarship'. His book shows why we are right to have confidence in the testimony of those who personally witnessed the life of Jesus as recorded in the gospels."
Jesus and the Eyewitnesses argues that the four Gospels are closely based on the eyewitness testimony of those who knew Jesus personally. The book challenges the prevailing assumption that the accounts of Jesus circulated as "anonymous community traditions," asserting instead that they were transmitted in the names of the original eyewitnesses.
Richard Bauckham is Emeritus Professor of New Testament studies at the University of St Andrews, Scotland. A fellow of both the British Academy and the Royal Society of Edinburgh, he has also written Bible and Mission: Christian Witness in a Postmodern World.