Archbishop prays for Pakistan
Thursday 17th March 2011
In a service yesterday evening at St Margaret's Church, Westminster Abbey, The Archbishop of Canterbury, Dr Rowan Williams, prayed for the people of Pakistan.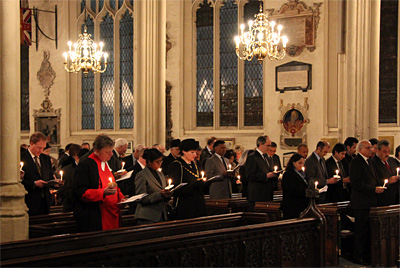 The Service of Remembrance and Thanksgiving for Shahbaz Bhatti, Federal Minister for Minorities in the Pakistan Government, who was assasinated on 2 March 2011, was attended by His Excellency Mr Wajid Shamsul Hasan, High Commissioner for Pakistan, Bishop Declan Kelly, Roman Catholic Bishop of Clifton representing the Catholic Bishops Conference of England and Wales, and a congregation largely composed of Asian Christians resident in Britain.
The Archbishop's role in the service was to offer the following Prayer for Pakistan, before leading the congregation in saying the Lord's Prayer.
God our Father, whose power is shown in compassion and whose justice gives hope to all your creation, strengthen with your mercy and justice all who work for peace and understanding between nations, between communities of faith, and between neighbours. May the gift of your Spirit of truth and peace be poured out especially upon the people and leaders of Pakistan, so that fear may be overcome, prejudice and hatred be taken away, and trust restored. We give you thanks for the witness of all who have risked their lives for reconciliation, and pray that all who live at risk because of their faith will know your presence and your blessing, and be given the courage to seek a place at the feet of Jesus. May the people of Pakistan be renewed and revived, an example of just and loving fellowship in the service of the common good; and may the suffering Church there and elsewhere put to flight all the darkness of hatred in human hearts. All this we ask for the sake of our crucified Saviour, Jesus Christ, who gave his life so that all might live reconciled to you in the communion of the Holy Spirit. Amen.
The Right Reverend Tony Robinson, Chair of The Archbishop of Canterbury's Pakistan Focus Group delivered the following Sermon: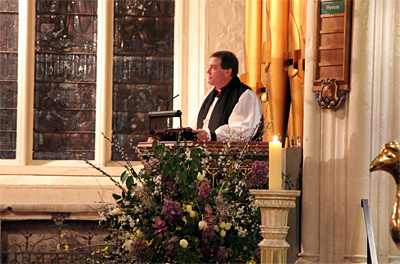 'We need one another when we come to die, and would have gentle hands prepare us for the journey. '
It would be a perfect world if we could all face our inevitable death as George Odell. describes, with time to prepare and be prepared, and surrounded by people who love and care for us, to help us not to be afraid.
What happens, though, when there are no gentle hands, when death comes with the face of terror, as we go about our daily business.
Death was not gentle for Shahbaz Bhatti, as it hasn't been for many Christians and other minorities in Pakistan. Only this week it was reported that Qamer David, another Christian falsely accused of blasphemy has died suspiciously while in custody in Karachi.
We grieve for Shahbaz and others killed in terrible ways even when they aren't personally known to us. Television coverage is so vivid - the car riddled with bullets in the middle of the road - that we feel the horror and pain and loss acutely. Such tragic and terrifying deaths have an impact on all of us, not just on the relatives and friends of those who died. We can't help but be confronted with the tenuous nature of our own lives and the loss of that sense of safety within which we normally live. In this country we have experienced this only in a small way when bombs were detonated in this city. In other parts of the world, such as Pakistan, people live with this fear and uncertainty all the time.
Fear is a major factor right now for Christians and other minorities in Pakistan. Our fear for them and their situation. Our fear for the future of Pakistan.
Jesus said in our reading from Saint Matthew: "Fear not therefore; you are of much more value than many sparrows." His aim here is to help us overcome fear and instill courage. Not to be afraid to speak clearly and openly what Christ has taught us even if it costs us our church, our friends, and our lives. Or to put the point positively, Be courageous to speak the truth of Scripture clearly and openly for all to hear even if it is unpopular and dangerous. It is what Christian men and women have done for the past two thousand years helping to make the Kingdom of God a reality in the world.
Jesus went on to say that "Everyone therefore who acknowledges me before others, I also will acknowledge before my Father in heaven." Those who bear witness to him and to the Gospel on earth will have honour in heaven. There is no greater honour than that.
Shahbaz said He knew what was the meaning of the cross which he followed all the way, to his last breath. But he also knew that the Cross was not the end. He knew that the cross was followed by, as Saint Paul told us in the first reading, the power of the resurrection. Shahbaz shared in Christ's sufferings by becoming like him in death, may he now attain the resurrection from the dead.
So the words of Jesus and the example of Shahbaz are a great support for us and for minorities in Pakistan to carry on, no matter what setbacks befall us. Jesus reveals God as a loving Father who has even the hairs on our head accounted for. The ramifications of this revelation for our personal lives should never be underestimated. We are not orphans in a meaningless universe; we are children of God in a world that has been designed for God's glory and our own. God is conscious of each of us and knows each one's needs. We need never fear that our problems and sadness's are hopeless and that no one can come to our aid. We can focus on everything that is going on in our lives and in the world and become depressed or we can trust in God's purposes for us and feel supported. We are not without resources for avoiding the inertia and loss of will that tragedy so often generates.
Shahbaz said "I will prefer to die for my principles and for the justice of my community rather than compromise."
Our tribute to Shahbaz and our resolve will be to follow his love of truth and justice. Not limited by fear in the face of adversity and persecution. And having the courage to continue his work to fight against discrimination, intolerance and religious disharmony, and to cherish the idea of a multifaith society in which all persons would live together in harmony with equal opportunities.
There were no gentle hands to prepare Shahbaz for the journey when he was murdered but we can be assured that he is safe and secure now in the gentle hands of Jesus. May he rest in peace and rise in glory.