Bonneville School students decorate the Lambeth Palace Christmas tree
Thursday 15th December 2011
Children from Bonneville Primary School in Clapham decorated the Christmas tree at Lambeth Palace with help from Archbishop Rowan Williams and Mrs Williams.
The children brought with them Christmas decorations they had made during art lessons at school, taking inspiration from their school crest.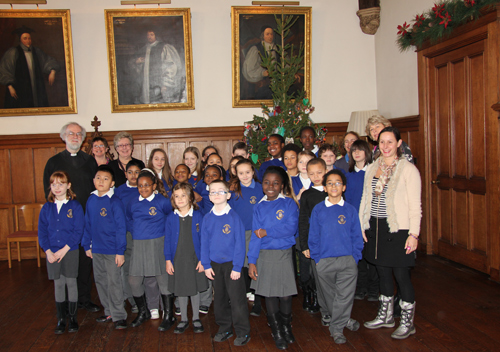 Students and staff from Bonneville School with Archbishop Rowan and Mrs Williams and the Lambeth Palace Christmas tree.

The Archbishop and Mrs Williams were able to spend time chatting with the students before the decorating commenced, and the children's questions included "where do you spend Christmas?" (Canterbury); "what do you have for Christmas dinner?" (turkey); "who is your favourite author?" (Dostoevsky, among others); "do you have any pets?" (we used to have a bad-tempered cat and we hope to have a dog one day); "do you like boxing?" (err, no, probably because I never thought I'd be any good at it); and "did you meet anyone famous at the Royal Wedding?" (yes, Victoria Beckham!).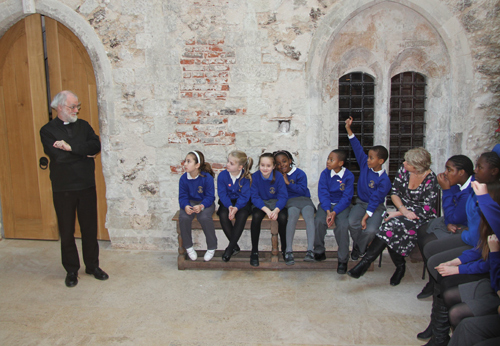 Bonneville School students in conversation with Archbishop Rowan Williams.
The School's visit finished with a tour of the Palace.